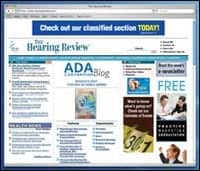 Top News and Headlines in October
FDA Warning: Potential Hearing Loss with Erectile Dysfunction Drugs
Lugera Appointed New COO and President of Bernafon
JCIH Revises Policy on Infant Hearing Screening and Intervention
Nominations Sought for Larry Mauldin Award
FDA Says CI Recipients Need Pneumococcal Vaccination
Hearing Instrument Unit Sales Up Slightly in Third Quarter of 2007
Native Language Governs Way Toddlers Interpret Speech Sounds
Phonak and Unitron Hearing Announce New Products at EUHA
Gennum Sells Hearing Division to Sound Design Technologies
New Earigate Ear Cleansing System Introduced by Murine
---
According to the Hearing Industries Association (HIA), hearing aid net unit sales in the US have increased by 52,631 units or 2.9% during the first three quarters of 2007 compared to 2006. Third quarter dispensing activity was 1.93% higher than during the third quarter of 2006. This follows 1.06% and 5.87% increases in the first and second quarters, respectively. Public-sector dispensing (ie, non-VA) of hearing aids increased by 30,760 net units or 2.0% during the first three quarters of 2007.
Audiology pioneer Marion Downs received the Secretary of Health and Human Services' Highest Recognition Award on October 25 in Washington, DC. She was honored for her role in achieving national newborn hearing screening and her "exemplary contributions to improving the lives of persons with disabilities."
The FDA has approved labeling changes for erectile dysfunction drugs in the class that includes Cialis, Levitra, and Viagra to display more prominently the potential risk of sudden hearing loss, and to guide consumers on what to do if they experience sudden problems with their hearing. Although no causal relationship has been demonstrated, the strong relationship between the use of these drugs and sudden hearing loss warrants revisions to the product labeling, says the FDA.
A revised policy statement, "Principles and Guidelines for Early Hearing Detection and Intervention Programs," from the Joint Committee on Infant Hearing (JCIH; seven organizations, including the American Academy of Pediatrics) recommends that pediatricians take the lead in ensuring that all infants are screened for hearing loss by age 1 month, diagnosed with hearing loss by 3 months, and engaged in full intervention services by 6 months.
A strain of the bacteria Streptococcus pneumoniae, which can cause ear infections in children, has been detected that is resistant to all FDA-approved antibiotics for treatment of ear infections, according to a study in the October 17 issue of JAMA.
The American Academy of Audiology (AAA) has announced the selection of Cheryl Kreider Carey as executive director of the organization.
Richard Salvi, PhD, and colleagues have received a $2.9 million 5-year grant from the National Institutes of Health to study the brain signals responsible for creating tinnitus, using animal models, and to test potential therapies to quiet the noise.
Senators Charles Grassley (R-Iowa) and Herb Kohl (D-Wis) have announced their intention to introduce legislation that would regulate nearly all gifts that drug and medical device manufactures provide to health care professionals.
Want the inside scoop? [register]Subscribe to HR's FREE weekly e-newsletter, The HR INSIDER[/register].
---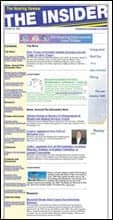 Get Your Weekly Edition of THE INSIDER
Every week The Hearing Review sends out THE INSIDER, a weekly e-newsletter devoted to the top hearing-related news, research, product introductions, fitting topics, and marketing research stories that are influencing your business or practice, as well as the industry at large. Sign up for your free subscription.