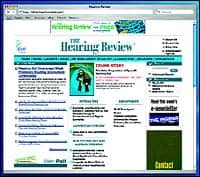 TOP ONLINE HEADLINES in September
• Hearing Industry Pioneer Rufus L. Grason Dies
• BHI Mini-Documentary on Hearing Care to Air on PBS
• California Sends Hearing Aid Insurance Mandate to Governor
• Mayo Clinic to Hold 17th Annual Audiology Videoconference
• Michael Jones Joins Sound ID
• UK Survey Reveals 20 Best and 20 Worst Sounds
• Starkey Hearing Foundation Appears on Extreme Makeover
• Two Studies Link Presbycusis to Genes
• Study Points to Possible Tinnitus Treatment with Botox
• New Algorithm Analyzes Silent Parts of Speech
• Sonomax Purchases VitaSound Audio in Canada
---
• Scientists in London have discovered evidence of a gene that contributes to presbycusis. The research, published in the journal Human Mutation, could eventually lead to treatments being developed to prevent age-related hearing loss.
• The largest study ever to analyze the hearing of women on hormone-replacement therapy (HRT) has found that women who take the most common form of HRT have a hearing loss of 10% to 30% more compared to similar women who have not had the therapy. The results are published in the Proceedings of the National Academy of Sciences.
• Researchers have identified several risk factors that are associated with the development of hearing loss in children with bacterial meningitis, according to a study in the September Archives of Otolaryngology—Head & Neck Surgery.
• Otologics LLC, Boulder, Colo, is currently enrolling patients in a clinical research study for a new fully implantable hearing device.
• For the first time, researchers believe they have evidence that not only implicates nicotine as the culprit in hearing-related cognitive deficits, but also shows what the substance does to the brain.
• A literature review by the Medical Technology Assessment Working Group at Duke University shows that hearing loss can contribute to strained relationships with family and friends, depression, and even a deterioration of basic well-being, but only 1 in 5 Americans who could benefit from a hearing aid has one.
Want more news? Subscribe to HR's FREE weekly newsletter, [register]The HR INSIDER[/register].
---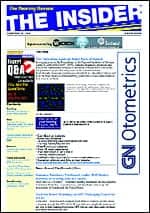 HR LAUNCHES THE INSIDER
• September, The Hearing Review launched THE INSIDER, a weekly newsletter devoted to the top hearing-related news, research, product introductions, fitting topics, and marketing research stories that are influencing your business or practice, as well as the industry at large. Sign up for your free subscription at www.hearingreview.com.
---
This month, HR Online asked readers:
The average age of my first-time clients/patients (eg, never purchased a hearing aid from your office/practice or another source) is getting: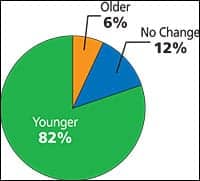 Be sure to check out HR Online and participate in our next poll:
What type of outside marketing does your practice conduct?
Let your voice be heard!
---
WEB EXCLUSIVE
Mission to Romania: New Center for Early Detection of Hearing Loss: An update on a pioneering international audiology project spearheaded by Tricia Towle, MS—the only audiologist in Romania.