Survey Finds Hearing Loss Symptoms in Teens Are Common
Rockville, MD—A recent survey titled, "Survey of Teens and Adults about the Use of Personal Electronic Devices and Head Phones," conducted by Zogby International and commissioned by the American Speech Language Hearing Association (ASHA) shows that high school students are more likely than adults to have experienced three of the four symptoms of hearing loss: turning up the volume on their television or radio (28% students vs 26% adults); saying "What?" or "Huh?" during normal conversation (29% students vs 21% adults); and tinnitus or ringing in the ears (17% students vs 12% adults). The survey included 301 young adults ages 14 to 18 years old and 699 people older than age 18 (total n=1000).
Less than half of high school students (49%) say they have experienced none of the above symptoms, compared to 63% of adults. Among students, African Americans and Hispanics are more likely than whites to report that they have experienced at least some of these symptoms of hearing loss. Significant majorities of students say they use a cell phone (82%) and a Walkman or portable CD player (62%). For both of these products, they are more likely to use them than are adults (78% and 36% respectively). In fact, for all but one of these products, students are more likely than adults to use them, or in the case of portable televisions or DVD players, equally likely to use them. Only with laptops are adults more likely to use the product than teens.
For a few of these products, adults are more likely to use them for a longer period of time than are teens—the Apple iPod and another brand of MP3 player are used for 1 to 4 hours more often by adults than by teens (time spent commuting to work may account for using these products for longer periods of time, notes the study). Nearly equal percentages of adults and students use their Apple iPod with the volume turned loud, while among users of other brands of MP3 players, students are significantly more likely than adults to have the volume turned loud.
Teens are more likely than adults to use the other products for longer periods and at higher volumes. Among teens, boys are more likely than girls to use these products in ways that may cause hearing loss later in life, by listening for longer periods and at higher volumes. Despite the normal loss of hearing that occurs with age, older adults are more likely to report using these products at lower volumes than younger adults and teens.
Equal percentages of adults (48%) and teens (47%) say they are not concerned about hearing loss from use of these products, while teens (53%) are much more likely than adults (33%) to say they are concerned. Despite this concern, more than half (58%) of teens say they are not likely to cut down on the time they use these devices and 31% are not likely to turn down the volume. Even more teens (64%) say they are not likely to purchase specially designed earphones to prevent hearing loss. Just under half (48%) of adults say they are unlikely to cut down on usage.
To get a copy of the report, visit www.asha.org/pressevent/zogby.htm
HEI Celebrates 60th Anniversary
Los Angeles—With May being Better Hearing and Speech Month and the 60th anniversary of the House Ear Institute (HEI), the Institute hosted a hearing health fair at The Grove shopping center in Los Angeles, where it unveiled its new walk-through educational exhibit, "Journey Through the Human Ear." The free 3-day event was held May 5-7, and drew thousands of visitors who were greeted by the Institute's "Ear Bud" mascot. The 30-foot exhibit—which had been under construction for 3 months and involved more than 35 people—featured a gigantic 3D rendering of the human auditory system, complete with sound effects that illustrate how sound moves through the ear, and text displays offering tips on how to protect your hearing, common disorders related to the auditory system, what sensory aids are, common forms of hearing loss, and how to speak to someone with a hearing loss.
"We want this to be a forum for people to understand how hearing works," says HEI CEO James Boswell, emphasizing the need for more preventive work and public education of hearing loss. In addition to the exhibit, free hearing screenings were available with audiologists on hand to discuss the test results and provide additional hearing health information.
Long-time HEI supporter and actress Nanette Fabray kicked off the event during the ribbon-cutting ceremony. Fabray was a patient at HEI 50 years ago, where Howard House, MD, helped restore her hearing. After four surgeries, Fabray wears a hearing aid in her right ear to balance out what she calls "super hearing" in her left ear. "It's a big mistake to ignore hearing loss," she says, "especially in children and newborns. Hearing is the most important sense we have."
Fabray believes one of the reasons why people are reluctant to get their hearing checked is the stigma associated with the phrase "deaf and dumb." "I've been trying to get those [words] out of the dictionary for 50 years," she says.
JB Fuqua, a long-time donor who supports public education and outreach, underwrote $200,000 just for the exhibit. Fabray also donated funds designated for future travel of the exhibit. For now, the exhibit is scheduled to be on display in the atrium of HEI, and will be available as a touring exhibit for science museums and other educational venues.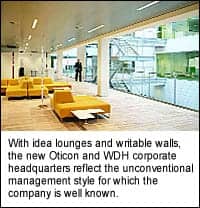 Oticon Opens New Danish Headquarters
Kongebakken, Denmark—-Oticon A/S and William De­mant Holding (WDH) have moved into a new high-tech headquarters in Kongebakken, Denmark, just outside of Copenhagen. The new facility features cutting edge design and functionality intended to facilitate the project development processes that are hallmarks of Oticon's award-winning management style. The company had outgrown the historic Tuborg brewery mineral water factory building that had served as its headquarters since about 1990, but key features that made that office environment unique and unconventional have been retained and/or refined (see "Oticon Celebrates Its Centennial," Oct 2004 HR).
Recently awarded the Innovation Cup 2006 as the most innovative Danish company, the new Oticon facility is intended to inspire idea generation and facilitate the company's flexible project development processes. In addition to providing staff with the latest technological tools needed to develop breakthrough hearing solutions, the new headquarters in Kongebakken is designed to create a working environment that fosters untraditional thinking.
"We want to maintain technological leadership and continue to develop outstanding solutions for people with hearing impairment," says Niels Jacobsen, president and CEO of Oticon and WDH. "Oticon is a strong partner today, and the new house will make us an even stronger partner in the future. It is equally important that we are able to offer an attractive working environment for our staff, thus attracting the best employees of tomorrow."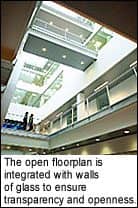 At the new facilities, soundrooms and labs are located side by side with creative environments. Meeting facilities range from informal high-stooled coffee islands and idea lounges to table-less brainstorm bays, designed to support all phases in the development process. Writable, movable walls are just one way of creating the setting for flexible project work. Every room in the building is unique and has something to offer in the process of developing the hearing aids of tomorrow, according to the company. And all elements are integrated into the open floor plan with walls of glass to ensure transparency and openness.
Oticon's new high-tech building offers the latest in fibernet infrastructure providing the sophisticated backdrop for a modern electronic work place. Wireless laptops enable people to work anywhere in the house and the "SmartWorker" concept has been applied to identify the right IT systems in order to improve transparency and minimize trivial non-value-creating activities. Towards the same goal, support functions like IT and administration share the same space as the development teams.