SHHH Leader Strongly Supports Hearing Aid Tax Credit
Washington, DC — Co-sponsorship of the Hearing Aid Assistance Tax Credit Act (HR 3101 and SB 2055) now stands at 47 House members and 2 Senate members. A feature article on the tax credit written by Brenda Battat, senior director of policy and development at Self Help for Hard of Hearing People (SHHH), was published in the March/April issue of SHHH's Hearing Loss magazine. Battat explains in the article how SHHH, the Hearing Industries Association (HIA), and other allied organizations were instrumental in getting the qualifying age from 65 down to 55 for HR 3103. She also explains the importance of these bills to the hearing health community, and asks SHHH members to contact their Congressional representatives to encourage their support of the tax credit bills.
In the US Senate, Senator Gordon Smith (R-OR) on April 22 became the first co-sponsor of SB 2055, which was sponsored by Senator Norm Coleman (R-MN). Senator Smith serves on the Senate Finance Committee whose support is crucial for bill passage. Senator Coleman will be working in the coming months to gain more support for the bill among his fellow Senators.
In related news, the Independence Through the Enhancement of Medicare/Medicaid (ITEM) Coalition, an organization that has been lobbying primarily on the behalf of those people who must rely upon wheelchairs, lent their support to HR 3103 and SB 2055 during the organization's annual meeting at the end of March. SHHH executive director Terry Portis gave an update to meeting attendees on both bills and acknowledged ITEM's support of both as a good starting point. ITEM coalition executive director Peter Thomas agreed to register its support for the bills on its Web site along with guidance for consumers and organizations to contact their elected officials to urge support.
HIA, the American Academy of Audiology (AAA), the American Speech-Language-Hearing Association, the International Hearing Society and several consumer organizations continue to work with Representative Jim Ryun (R-KS), the sponsor of HR 3103, and Senator Coleman to increase co-sponsorship of the bills. The Act would provide a $500 tax credit ($1000 for a binaural fitting) per hearing-impaired citizen ages 55 and older, as well as dependents ages 18 and younger. The tax credit would be available to any qualified citizen once every 5 years.
For information on how to help in the support of this bill by endorsing it to your representatives in Congress, see the March HR, p. 8.
---
GN Otometrics Launches New Bluetooth Line

Michael Brock and Terry Ross, GN Otometrics
Bloomington, Minn — A new line of hearing and balance systems called OTOflex, including the first implementation of Bluetooth technology in an immittance system called OTOflex 100, was launched by GN Otometrics at the American Academy of Audiology convention in Salt Lake City. The new line is designed to eliminate testing equipment that is tethered via wires to computers or other diagnostic hardware, making testing more mobile while reducing space requirements. The new instruments use Bluetooth wireless technology to transmit data between the hand-held units and the computer and software. The hand-held instruments will have a range of about 33 ft. The USB antenna that receives the Bluetooth data snaps into the back of any computer and costs around $40.

OTOflex 100 features a full battery of tests including multiple probe-tone tympanometry to 1000 Hz, reflex screening, reflex decay, and eustachian tube testing (intact and perforated). It is capable of single-page reporting (including importation of audiogram information), can be customized in testing and for reporting, and is NOAH compatible.
The entire suite of diagnostic products will work on the same software platform and is designed to be easy to learn and use. "Most current hardware is hooked up to a PC and to various other test devices," says Michael Brock, president of GN Otometrics. "Learning and space requirements become a large issue for the clinician, while what is needed is more face-to-face contact with the patient without being constantly tethered by cables to equipment."
"This advanced generation technology will allow immittance testing to be conducted in an entirely new way," says Vice President of Sales Terry Ross. "Now, hearing care professionals can conveniently bring the test to the patient, capture data, and print reports quickly without the cumbersome cabling and space-taking [requirements]." For more information, visit www.gnotometrics.com.
---
Siemens Ads to Appear in Time Magazine
Piscataway, NJ – Siemens Hearing Instruments has announced a new consumer advertising campaign geared toward reaching influential Baby Boomers (people born between 1946-1964) in a new market growth initiative. Designed around the national "Spin the Globe" campaign created by Siemens Corp, the advertisement appears in two issues of Time® magazine: April 12 and May 10.
The campaign was designed primarily to reach potential hearing instrument wearers in corporate environments, as well as inform current wearers about the latest advanced digital technology. Ensuring reach to influential Baby Boomers, Siemens chose the Top Management edition of Time, which is delivered exclusively to company CEOs, directors, managers, and supervisors. The new advertising campaign aims at removing the "elderly" stigmas that some people associate with hearing instruments, and educating people on the latest and effective technology available. The ultimate goal is to motivate individuals to seek treatment as early as possible, which will allow them to maintain their quality of life for years to come, according to Siemens.
---
HEI Study Confirms Hazards of Noise Exposure
Los Angeles – A new study released last month by scientists at the House Ear Institute (HEI) confirms the impact of noise on hearing. Statistics gathered from thousands of hearing tests conducted on people working in the music and sound industries indicate that repeated exposure to high levels of sound results in frequency-specific hearing loss that is uniquely characteristic of noise-induced inner ear damage.
These statistics have implications for those in the general population who may be exposed to environmental noises over 85 dB on a daily basis and can contribute to hearing loss over time, says HEI. Some noise sources that may present a risk for noise-induced hearing loss with regular exposure include recreational activities, such as rock concerts or sporting events, shooting firearms, listening to personal and car stereos at excessive levels, operating power tools and yard maintenance equipment, using blow dryers/hair dryers, and commuter noise (train/car/bus).
HEI researchers emphasize that noise-induced hearing loss (NIHL) is the one type of hearing loss that is preventable, and encourage everyone to carry earplugs and wear hearing protection in noisy environment. The Institute has established its Sound Partners™ program as an initiative to provide education and outreach activities that promote hearing conservation and noise awareness to music and audio professionals and the general public. Sound Partners joined with the League for the Hard of Hearing in New York and other hearing conservation organizations in announcing the ninth International Noise Awareness Day on April 28, 2004, as a reminder to "turn it down."
"For more than 56 years the House Ear Institute has provided hearing conservation information based on research about the dangers of excessive environmental noise and how it affects individuals," says Jim Boswell, HEI's CEO. "It is gratifying to see a day designated to practicing better hearing conservation that is internationally recognized."
For information on the House Ear Institute, visit its Web site at www.hei.org or [email protected].
---
Two Audiologists Publish Self-Help Books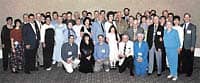 Kathy Foltner, AuD, and Toni Gitles, MA, audiologists and long-time figures in the hearing health care industry, have been hand-selected through a nationwide search to co-author two new books focusing on success and happiness. The two books, Success Is A Decision Of The Mind and Happiness Is A Decision of The Heart, are published by Tennessee-based publisher Insight Publishing.
Foltner and Gitles are joined by other experts who offer a variety of relevant, inspirational, and informational strategies designed to help people succeed in their personal and professional lives plus find contentment, peace, and happiness. The book is full of real-life examples demonstrating how each of the authors has achieved success and happiness. In addition, each book offers ready-to-use insights on success and happiness for readers to implement in their own daily lives, careers, and businesses.

According to the publisher, Kathy Foltner speaks from experience and has achieved what many individuals aspire to attain, but only a few accomplish including starting, managing, and selling an audiology practice that was ranked as one of the fastest growing companies in the Michigan Private 100; and transitioning to corporate America first as V.P. of Operations for Sonus-USA and later as president of HearPO. She says she achieved financial freedom through a dedicated focused commitment to her profession, the sale of her business, quality financial management, and making the right decisions. Foltner has authored over 25 articles and chapters, teaches business concepts to doctoral students at PCO-School of Audiology, and has been a featured speaker at local and national professional meetings for over 20 years. Toni Gitles has transcended predictable life paths. As a clinical audiologist, she practiced 10 years at Texas Medical Center, was an educational audiologist and sales liaison for Etymotic Research, and was Sr. Vice President of Electone, Inc. where her charge included sales, marketing, customer education, public relations, and new product introduction. She now serves her industry as a specialty recruiter and consultant. As a professional speaker and coach, Gitles motivates people to solve their most difficult personal and professional challenges. With humor, natural story telling and practical techniques, Gitles reaches diverse groups, helping people to extract life-changing lessons from everyday experiences.
For more information, contact Kathy Foltner at www.foltnerconsulting.com or call 312.593.1787; or Toni Gitles at www.tagarecruiter.com or call 407-321-7299. w
---
AAA Urges Congress for More Research and UNHS Funding
Alexandria, Va – The American Academy of Audiology (AAA) presented testimony before the House Subcommittee on Labor, Health and Human Services, Education and Related Agencies Appropriations during March in support of Federal funding for hearing health research and early hearing detection and intervention programs.
"Over the past two decades, NIH funding for audiology and related hearing research has led to marked improvement in the clinical care for individuals across our nation who are deaf or hard of hearing," said AAA President Brad A. Stach, PhD. "Sound federal investment is needed to continue this progress and to build upon the scientific and technological advances necessary to better understand, diagnose, and treat hearing disorders."
AAA supports a 5.2% increase in funding for the National Institutes of Health (NIH). It urges the National Institute on Deafness and Other Communication Disorders (NIDCD) to continue to support research in the areas of inner ear protection, rescue, and regeneration, such as noise-induced hearing loss, ototoxicity and hair cell regeneration, as well as research on the central auditory system. The Academy also supports the NIDCD's continued research on rehabilitative technologies and strategies, leading to improved prevention, treatment and management of hearing loss, tinnitus and dizziness.
Ensuring that infants and toddlers referred from universal newborn hearing screening (UNHS) programs receive timely and appropriate services has emerged as a major challenge to the success of these programs. "Funding is needed for states to fully develop screening, diagnosis, and treatment programs for infants and toddlers with hearing loss, to improve follow-up programs, to expand in-service training for pediatric audiology, to educate primary healthcare providers about their role in EHDI, and to expand technical assistance and support to state programs," says Stach.
AAA is urging Congress to appropriate $10 million each to the Health Resources Services Administration (HRSA) and to the Centers for Disease Control and Prevention (CDC) to fund critical state early hearing detection programs and to ensure that children have the access to appropriate follow-up and intervention services.
---
Vivatone Launches Hearing Aid

Natan Bauman, EdD
Vivatone, Hamden, Conn, has launched a new hearing instrument that utilizes an open-fitting system incorporated into a mini-BTE and earbud-type device. The system utilizes special fitting software and an eartip connected via a small wire to a BTE-like processor that is said to facilitate open-canal fittings.

Natan Bauman, EdD, an audiologist and electroacoustic engineer who was born in Poland, started the company after developing the device on clients who came into his 7-office practice in Connecticut seeking a premium hearing solution for their hearing problems. According to Bauman, the new device is capable of delivering extremely natural-sounding signals without the occlusion effect, and due to its design can be fitted on the patient without need for a custom earmold.
For more information, visit the Vivatone Web site or contact the company at Vivatone, 2661 Dixwell Avenue, Hamden, CT 06518; phone: (203) 287-9915; www.hearingbalance.com.
---
Fortune Names Siemens Among the Most Admired Companies
Fortune magazine's 2004 list of America's Most Admired Companies named Siemens the third most-admired company in the electronics industry, up four spots from 2003. From technologies in hearing solutions and healthcare, energy and transportation, to information and communication, Siemens innovations contribute to the well being of people across the globe. Siemens has a total of 65,000 employees in the United States.
Fortune also ranked Siemens as the United States' third most innovative electronics company. The company dedicates $700 million and 6,400 employees to research and development (R&D) in the United States annually. Globally, Siemens dedicates $5.5 billion and 45,300 people to R&D, making the company the world's third-highest contributor to R&D. Siemens currently holds 8,600 US patents and 45,000 globally. It is the largest patent holder in Germany, second largest in Europe, and among the top-10 in the United States. According to Siemens, the company produces 30 new inventions each business day and notes that three-quarters of its products and services are less than 5 years old.
"We are proud that Siemens outstanding efforts in the U.S. are reflected in our higher position on Fortune's list of America's Most Admired Companies," says George Nolen, president and CEO of Siemens Corporation. "In 2003, Siemens 65,000 US employees helped the company achieve greater efficiencies in our operations while also continuing our leadership position as a technology innovator. These efforts led to dramatic improvements in our financial performance and laid a solid foundation for future growth and profitability."
---
Letters
Dear Editor: I greatly appreciated reading the article by Robert Sweetow, PhD, and his colleagues in the January 2004 HR article, "A Time-Cost Analysis with Patients Who Purchase, Return, and Exchange Hearing Aids." It is a current topic of concern to our practice, and the collected data gives us an excellent starting point for discussion.

There is, however, an error in calculation that I thought should be brought to Dr. Sweetow's attention. In the last paragraph of the section entitled "Discussion" there is reference to the percentage of increase in visits and time spent from Group A to Group B. The article lists those percentages as 61% and 56%. Those percentages should be 63.8% and 76.5%, respectively.

Your figures represent the percentage of Group A relative to Group B, not the increase in percentage from Group A to Group B.

— Rick Olson
Midwest Hearing Aid Systems
Woodbury, Minnesota
Dr. Sweetow Responds:

Kudos to Mr. Olson. Our stated percentages of 61% and 56% merely represent the quotient of Group A to Group B, but his calculations accurately represent the percentage by which the number of visits and time increased.