Careful attention to customer satisfaction is the primary focus of the expert staff at Unitron Hearing.
Unitron Hearing's United States offices are headquartered in Plymouth, Minn.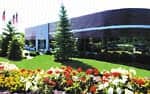 Unitron Hearing's United States offices are headquartered in Plymouth, Minn.
In an industry dominated by technological innovation, Unitron Hearing is establishing a niche with a market-driven approach to development, marketing, and service. "What we're trying to emphasize is that our company can provide a broad line of digital products that are acceptable to large portions of the hearing-impaired community," says Bruce Brown, vice president of marketing for Unitron Hearing. "So our goal is not to 'wow' the world with our technology brilliance, it's to design products that are practical and easy to use with clear benefit to many of the hearing-impaired. It's an easy, practical, accessible-to-everyone theme, as opposed to one based on innovation for innovation's sake."
Union of Three Companies
Born from an amalgamation of three companies, Unitron Industries, Lori Medical, and Argosy Hearing Solutions, Unitron Hearing markets its instruments worldwide and employs about 650 people at its four facilities in Kitchener and Cambridge, Ontario; Plymouth, Minn; and Bremen, Germany. The company was purchased by Phonak in the fall of 2000, and retained the Unitron brand because of its international reputation. "Among the three brands [Argosy, Lori, and Unitron], the Unitron brand was strongest across international markets," says Brown. "It is very much our position to be a global company, and the Unitron name held stronger brand presence in international markets."
This international approach is contingent on selling the value of hearing. "We want to make sure people have a nice return on their investment," says Brian Kinnerk, president of Unitron Hearing US. "And I think Unitron Hearing is uniquely poised for that. This is going to be our message from now on we provide great value through amplification without compromising the technology."
Value is generated by evaluating the marketplace and not just looking at the available technology. "How we allocate our resources and how we specify our products are driven by the opinions, wants, and needs of our customer base," says Brown. "Our job is to make sure that those external opinions from dispensing professionals—and from an evaluation of what can be done with the technology as it moves forward—are considered and assimilated. The basis of the definition of our product is driven by how hearing professionals do their job or how they could do that job if we provide them with the right kind of tools."
And those wants and needs of the patient are ultimately tied to their lifestyle. "Our main focus is lifestyle and providing the patient with choice, so that they can meet their lifestyle requirements," says Robert Walesa, product manager at Unitron Hearing. "We like to provide as [many options] as possible, so the practitioner can choose the best combination of options for that particular patient. It allows the practitioner to not oversell or undersell the patient."
Spontaneous Acceptance

Brian Kinnerk, president of Unitron Hearing US
The goal when developing a new product is to create an instrument that will be instantly accepted by the hearing aid user. Unitron has developed fitting software, UniFit, that is, Walesa says, a key to generating that acceptance. "In a digital world, software is really the main product, it's what all of your products are showcased in," he says. "You do everything you can as far as developing the hearing aid so it sounds good and it performs well in different environments, but everybody's hearing situation and hearing loss are different and their perception of hearing is very different. So software has to be very responsive and very easy to use to address the individual concern of the patient. Software really determines how well the hearing aid product performs."
As important as the fitting software is, it is often pushed into the background by patients and dispensers, which poses challenges for the company. "Sometimes the fitting software gets lost in the message, because what [the customer] looks at is the tangible hearing aid they hold in their hand, but the software is really what makes you or breaks you as far as customer acceptance [is concerned]," says Kinnerk. "If [the dispenser] can't navigate it, if they feel it's not intuitive, they will simply not use it. They have a tough job because every professional is using four or five different companies and they have to learn four or five different software packages. The mandate for us is to make it very user friendly, intuitive, and easy to navigate."
A Human Element

Bruce Brown, vice president of marketing
The human element, combined with the software, is also important in the fitting process, something of which Walesa is acutely aware. "Each practitioner uses a different method, and UniFit is flexible enough to adapt to different styles of practitioner," he says. "They can set it up and make it unique to themselves. It's not like you're fitting eyeglasses where you're providing a prescription that restores normal vision. Hearing aids are different, you're not restoring normal hearing, you're giving them a compromise [an improvement in hearing], but you're not restoring normal hearing. In the industry, there's still a significant art form in terms of fitting an instrument. A few years ago, practitioners relied on a great deal of art form to fit hearing aids. Now with digital and fitting software, there's still a certain element of art form, but we have been able to provide more precision to the fittings. Where you can see uniqueness from one practitioner to another is their counseling style."
It is the easy-to-use theme that makes the company unique, according to Brown. "What strikes me as being different about Unitron Hearing, in addition to the high level of personal service, [is] embodied in the product that we just introduced, Unison," he says. "Unison is intended to be easy to fit, accessible to budget-conscious users, and designed for high acceptance on the first try."

Robert Walesa, product manager
Unitron Hearing's marketing approach is based on a customer service, not sales, model, which is directed at the practitioner, not the end user. "We have very well-trained sales reps who usually are audiologists or dispensers, so they're from within the industry," says Walesa. "The sales representative's primary focus is teaching our customers on how to fit our products effectively." As part of its service to distributors, the company holds training seminars when it launches a product. Unitron also offers customer support, which supplements the seminars and sales force, helping to troubleshoot problems and answer questions. Repairs to instruments are handled by the company and not contracted out.
The company also helps the distributors develop traffic by crafting a compelling marketing message. "It's really our job to boil [our instruments' value] down to a sound bite," says Kinnerk. "Our story is heavy features, good technology, good price. That message resonates."
And the message is designed to have a specific reaction. "At the end of the day, we have to make our customer smile," says Kinnerk. "What we're looking for is immediate acceptance of the technology. [Our end users] don't care about fitting formulas and signal processing strategies, they just want to hear better."
The Digital Revolution
With the recent introduction of the entry-level Unison family of instruments, which joins its cousins, the mid-level Axiom and high-end Nexus, the company now offers a full range of digital instruments. "We won't develop any new product that's not digital, it doesn't make sense anymore," says Kinnerk. "It's the cost of doing business, it's what the market expects. [But] it makes life a lot easier for us and the hearing health care professional, because everything is now driven through the software, and the mechanics of building a product can be streamlined."
But the digital revolution has its challenges as well as its benefits. "The industry is moving very quickly," says Walesa. "It's changed more in the last 5 years than in the last 30 years. And with digital technology, you have to keep pace. We're going to see product introductions more frequently. Our customers are expecting changes. It doesn't mean that it's necessarily easier to do, but the expectation is there, the technology is there, and you have to take advantage of it."
Making sure a new digital product fits the lifestyle needs of the patient falls to Walesa, who is responsible for generating and implementing new ideas. The process begins with presenting a product concept or improvement to the company's product strategy group. "[The product managers] have to be in touch with the market, look at the situation, and come up with a plan of where we need to go, put a proposal together, and then it gets approved by the product strategy group," he says. "If it's approved, we take it to the next step, and produce the specification for the new product."
Once the specification is defined, then it moves to the realization stage. "We review it with the research and development group to make sure we're being realistic, and research and development would add any new ideas or enhance the product, and from there we start active product development," says Walesa. Because digital technology attenuates the development process, the company has plans to introduce two new products every year.
The shift to digital will make the company's fitting software a key element in succeeding. "The software will become a more integrated, critical element of the way manufacturers like Unitron Hearing interface with dispensing professionals," says Brown. "The digital wave is going to influence everything we do and everything our competitors do. There's a whole new world of opportunity that's created by digital technology that allows for complex programming and lots of variables. Making sure that those things are defined in a manner that allows ultimately for hearing health care professionals to do their job better is really what it's all about."
N. L. Shepherd is a contributing writer for Hearing Products Report.