Debut of New York's "Taxi of Tomorrow" Includes Hearing Loop System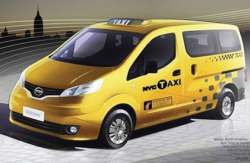 At New York's annual auto show, Nissan is introducing its NV200, a new taxi model that will include a hearing loop system for people with hearing loss who wear hearing aids with hearing induction technology.
New York is the first city in the United States to require a hearing loop system in its new cabs, according to Janice Schacter-Lintz, chair of Hearing Access Program. Schacter-Lintz spearheaded the campaign to have hearing loops included in the new taxis, advocating to New York's Taxi and Limousine Commission (TLC) when they were selecting the next generation of taxi styles for New York.
Writing in the comments section of AutoGuide.com about the NV200 introduction, Schacter-Lintz said, "Kudos to the TLC for including a hearing/induction loop in all new Taxis of Tomorrow that will benefit consumers as well as drivers who are hard of hearing. NYC is the first city in the United States and is following London's lead, which has been installing loops since 1998. We hope other cities in the United States and around the world will follow the TLC's lead. No one should ever worry that they will end up in NOHO [north of Houston St] when they meant SOHO [south of Houston St] because they could not hear the driver. We were thrilled to be part of this historic project."
Bongiovi Acoustics Sponsors ASHA's Listen to Your Buds Campaign
Bongiovi Acoustics, an audio listening device company, has become an official sponsor of the American Speech-Language-Hearing Association (ASHA) Listen to Your Buds campaign.
The Buds campaign teaches the young how to use personal audio safely in order to protect themselves from acquiring noise-induced hearing loss. The campaign features award-winning musicians who appear in schools and spread the ear buds safe-listening message.
"We are very appreciative and excited to have Bongiovi Acoustics join us in protecting the public's hearing," ASHA president Shelly Chabon, PhD, said in the press statement.
Bongiovi Acoustics managing director Steve Lazin added, "The safe listening messages and hearing health expertise at the heart of the Buds campaign need to continue to reach the public, and we look forward to helping with that."
Sycle.net Introduces Three Enhancements at AAA
Sycle.net introduced three new products at the American Academy of Audiology (AAA) convention in Boston. The new online software enhancements include eDocs, Sycle-LACE® Online Integration, and Sycle-CounselEAR Integration.
eDocs is a new feature that is accessed directly within Sycle.net, enabling users to scan or import documents into patient summaries. Users can then electronically manage, store, retrieve, and distribute patient documents from a single location or multiple locations. Sycle.net provides a default folder structure, and also allows users to create their own folders to organize electronic files.
New Sycle-LACE Online Integration allows users to manage LACE Online programs. Users can see patients' progress with LACE software, and view database-wide reporting and metrics within their Sycle.net account.
Finally, Sycle-CounselEAR Integration is embedded within the Sycle.net patient summary, enabling users to create, fax, and e-mail reports without ever leaving the software.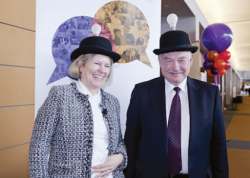 Ida Institute Managing Director Lise Lotte Bundesen joins Oticon Foundation Chairman Niels Boserup for the launch of the Ideas, Speak Up—Action and Awareness for Hearing Loss competition at the 2012 AAA convention in Boston.
Oticon Foundation and Ida Institute Launch Innovative Ideas Competition
At the 2012 AAA conference in Boston, the Oticon Foundation and the nonprofit Ida Institute launched a worldwide open call for ideas for generating better understanding of hearing loss, changing public perception, and encouraging people to take action.
The campaign is called Ideas, Speak Up —Action and Awareness for Hearing Loss, and is an open innovation competition that is funded by the Oticon Foundation and facilitated by the Ida Institute.
Individuals and groups are invited to submit their original ideas online for awareness projects that have the potential to effect change locally and/or globally, are simple and cost-effective, and inspire people to action.
"The Ida Institute has consistently demonstrated that collaborating with others can lead to answers, solutions, and breakthroughs that result in positive change," says Niels Boserup, chairman of the Oticon Foundation. "Ida Institute will apply its unique approach to innovation and collaboration to collect, process, and evaluate ideas for future awareness-building projects that will benefit people with hearing loss."
The idea-generating competition is hoping to enlist the creativity and experience of individuals in the private and public sector, as well as universities, associations, manufacturers, and people with hearing loss and their families.
"The collaborative process will enable us to engage the collective intelligence of our Ida network and the general public to build awareness of hearing loss and its impact," states Ida Institute managing director Lise Lotte Bundesen. "Everybody is invited to share their best ideas through our online platform."
The open call for ideas runs through September. During this time, ideas will be shared online at www.awarenessforhearingloss.com. Commenting and voting will take place from October through February 2013.
Implementation plans for the top-10 ideas will be developed. Finally, in February, an expert panel of judges, made up of thought leaders in a variety of hearing and health care, innovation, and communication disciplines, will select three winning ideas that will be announced at the 2013 AAA conference.
"If your idea is selected, you will have the satisfaction of seeing your idea turned into reality and possibly help change public perception of hearing loss and inspire people to take positive action to address hearing loss," said Bundesen.
Participation in the online competition is free of charge and open to all. Visit www.awarenessforhearingloss.com to register.
First National Guideline for Sudden Hearing Loss Is Now Available
The first national treatment guideline for sudden hearing loss has been published in the journal Otolaryngology-Head and Neck Surgery.
Sudden hearing loss is the rapid onset of hearing impairment in one or both ears. Patients typically report having a feeling of a full or blocked ear. The new guideline was developed by a 19-member panel led by Robert J. Stachler, MD, an otolaryngologist in the Department of Otolaryngology-Head & Neck Surgery at Henry Ford Hospital in Detroit.
"In most cases, patients will have multiple visits with several physicians and undergo extensive testing before a diagnosis is made. There's also been a lack of one or more uniformly accepted treatments, or a consensus on how to counsel patients who do not fully recover their hearing," said Dr Stachler in the press statement. He added, "By focusing on opportunities for quality improvement, the guideline should improve diagnosis, reduce unnecessary tests and imaging procedures, and improve hearing for patients affected by sudden hearing loss."
The panel developed the guideline after reviewing past research and reaching a consensus for patient diagnosis, management, and follow-up care. The guideline includes:
Recommendations to help clinicians distinguish conductive hearing loss from sensorineural hearing loss in patients with sudden hearing loss. Both are common causes of hearing loss, but they have very different treatment strategies.
Information to better educate patients about the benefits and risks of medical intervention.
A range of amplification and hearing assistive technology available to those patients with incomplete recovery of hearing.
Recommendations against clinicians ordering computed tomography of the head/brain as part of the initial patient evaluation.
In addition to sudden hearing loss, the guideline covers sudden sensorineural hearing loss (SSNHL).
The complete guideline is published as a supplement to Otolaryngology-Head and Neck Surgery, and can be downloaded at www.entnet.org.
Panasonic Announces Good Housekeeping Seal for All Hearing Instruments
Panasonic Healthcare Group announced at the AAA show in Boston that the Panasonic JZ Power WH-105JZ and all R1-W Series, WH-R17C, WH-R15C, and WH-R13C digital hearing instruments have earned the Good Housekeeping Seal. As a result, Panasonic's entire lineup of hearing instruments are now recognized by the Good Housekeeping Research Institute with the seal.
"After being reviewed by the Good Housekeeping Research Institute's Health, Beauty & Environmental Sciences Department, we're thrilled to welcome the newest Panasonic hearing aid products to our Good Housekeeping Seal family," said Patricia Haegele, senior vice president/publisher of Good Housekeeping magazine.
Delain D. Wright, director of sales, Panasonic Healthcare Group, commented in the press release, "As we expand our presence in the hearing market, the Good Housekeeping Seal recognition will help give both hearing care professionals and end users confidence in the decision to improve their lives through better hearing using Panasonic hearing products."
Previously, the Panasonic JZ Series digital hearing instruments earned the Good Housekeeping Seal in April 2011, followed by the 4-Series (RIC) digital hearing instruments in October 2011.
"Audiologist" Named Again in the Top 10 Best Jobs List for 2012
Careercast.com, a job search Web site, has once again included "audiologist" on its list of Top 10 Jobs for 2012. Not only is audiologist included again, but also the profession has moved up the rankings, from number nine in 2011, to number six in 2012.
Why is audiologist so highly rated in 2012 out of a long list of jobs? Careercast.com relies partly on employment data from the US Bureau of Labor Statistics regarding income level, stress levels, physical work, and safety, as well as current demand and supply.
The company further generalizes these into "Environment, Income, Outlooks, Stress, and Physical Demands." More details about the selection methodology can be read at www.careercast.com.
Overall, audiologists are ranked in the top 10 due to low physical demands and a relatively safe and low-stress working environment (the latter generated some choice comments from professionals last year), combined with a good 2012 hiring outlook and income growth potential for those entering the profession. Careercast.com also estimates that audiologists have an average income of around $67,000 a year.
Beltone Launches Simpler and More Interactive Web Site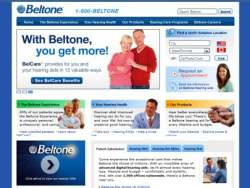 Beltone has unveiled their new Web site, Beltone.com, with updated and interactive features, and simpler navigation. The redesign is intended as a user-friendly resource for consumers looking for information on hearing health and instruments.
Other new features include an updated office locator, a virtual pressroom, and integration with social media sites.
The updated office locator allows visitors to find the nearest Beltone office and receive the local information via e-mail or a text to their mobile phone. They can also search for a specific Beltone location or request an appointment from any page on the Web site.
Beltone has also made the site more interactive. In addition to expanded information on hearing loss and Beltone products, users can now easily share that information through Beltone's social media sites on Facebook, Twitter, and YouTube.
In another nod to modern communications, the new Web site is also compatible with tablet computers, such as Apple's iPad, and offers normal and large text for easier viewing.