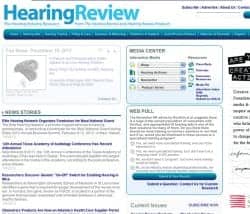 TOP NEWS and HEADLINES
Westone Receives Private Equity Investment for Expansion and Acquisitions
Marine Corps Now Requires Yearly Hearing Test for All Service Members
U-M Research: Overexposure to Noise Changes Sensory Pathways and May Lead to Tinnitus
First FDA-Approved Study of Stem Cells to Treat Hearing Loss
Indiana Hearing Aid Specialists Defeat Deregulation
First Pharmaceutical Cure for Tinnitus Reportedly Launched in India
A Link Between Obstructive Sleep Apnea and Sudden Hearing Loss?
Researchers Discover Genetic "On-Off" Switch for Enabling Hearing in Mice
Two Audiologists Invent Earphone Designed for Sport Safety
Westone Receives Private Equity Investment for Expansion and Acquisitions
Westone Laboratories Inc, Colorado Springs, Colo, has announced that it has entered into a partnership with private equity firm CID Capital, Indianapolis. The investment is will provide capital for Westone's expansion, while also allowing the Morgan family, Westone's founders, to pursue personal interests.
Westone was founded by Ron and Mickey Morgan in 1959 and has since grown to become a leading designer, manufacturer, and distributor of custom earpieces for hearing aids, custom hearing protection products, in-ear musicians' monitors, premium earphones for personal listening, and specialty communication products for military and law enforcement agencies. Ron Morgan passed away in October 2010, and was preceded in death by his son, Randy, who had served as the company's president and CEO, in June 2006.
For more on this story, see the January 25 HR Online News at www.hearingreview.com/news/2012-01-25_01.asp.
Indiana Dispensing Professionals Stave Off State Deregulation Bill
Indiana hearing aid specialists and other professions that require a license have defeated HB 1006, a deregulation bill that was withdrawn from consideration after strong opposition by the professional hearing health community and other affected professional groups, according to the International Hearing Society (IHS), Livonia, Mich.
"This was an important victory for Indiana consumers, and we are extremely pleased with the outcome," said Jane Bowman, BC-HIS, president of the Indiana Hearing Aid Alliance (IHAA) and member of IHS. "As a licensed hearing aid specialist, I am required to uphold the highest level of standards when testing hearing and fitting customers with hearing devices. Without regulation, consumers' safety would be compromised."
The withdrawn bill was based on recommendations made by the Regulated Occupations Evaluation Committee (ROEC), released in December 2011. Similar to the sunset review process used by many states, the ROEC evaluation calls for a systematic review of all professional licenses within a 7-year period. The Committee of Indiana Hearing Aid Dealers was one of several committees being evaluated and recommended for elimination.
Several hearing aid specialists, as well as representatives from the other professions, attended a public hearing on January 20, 2012, held by the House Employment, Labor and Pensions Committee, to voice their opposition to the bill. Among those testifying were IHS members, West Virginia State Senator Clark Barnes, BC-HIS (R-Randolph), a hearing aid specialist licensed in West Virginia, and Bowman.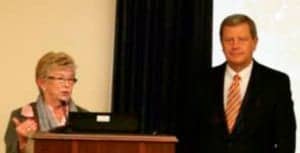 Representatives Carolyn McCarthy (D-NY) and Tom Latham (R-Iowa) spoke about their personal experiences relating to the value of hearing aids at the Congressional Hearing Health Caucus on February 8.
Senator Barnes urged his legislative peers to vote against HB 1006 to preserve licensure and protect Indiana consumers. The outpouring of opposition to the bill led the sponsor and committee chair to recommend holding the vote until a later date. As a result of ongoing pressure by the public and opposition to the bill by several members of the committee, the bill was not taken up by the committee deadline and consequently is no longer eligible for consideration, according to IHS.
Congressional Hearing Health Caucus Attracts Record Crowd
A group of hearing health organizations representing people with hearing loss, parents of children with hearing loss, the deaf community, hearing care professionals, and hearing aid manufacturers hosted a briefing in honor of the Congressional Hearing Health Caucus (CHHC) on February 8. The CHHC has been reinvigorated this year by Reps Tom Latham (R-Iowa) and Carolyn McCarthy (D-NY). According to the Hearing Industries Association (HIA), the briefing attracted a record 125 Congressional staffers and members of hearing-related organizations to examine how the military and Veterans Administration (VA) are handling the surge in hearing loss and tinnitus cases related to the wars in Iraq and Afghanistan.
Rep McCarthy, a long-time hearing health champion, welcomed the crowd and described her own experience with hearing loss and how important hearing aids have been to her. Rep Latham, another leading hearing health champion, also welcomed the crowd and described how the use of hearing aids helped his brother who experienced hearing loss during service in the Vietnam War. He also urged attendees to support the bipartisan hearing aid tax credit bill, which he and Rep McCarthy champion.
Lucille Beck, PhD, of the Veterans Health Administration, and Lt Col Mark Packer, MD, of the Hearing Center of Excellence.
The briefing was presented by Lucille Beck, PhD, Chief Consultant and National Director for Audiology and Speech at the Office of Rehabilitation Services, Veterans Health Administration, and United States Air Force Lt Col Mark Packer, MD, interim director of the Hearing Center of Excellence, which was formed in part to ensure seamless services for soldiers with hearing-related injuries while they are in the military and as they transition to civilian life and care through the VA. Drs Beck and Packer focused on the large increase in the number of both tinnitus and hearing loss, the most common service-connected disabilities overall. They reported that more than 810,000 veterans have been service connected for tinnitus, and more than 730,000 have been service connected for hearing loss as of the third quarter of 2011.
The numbers are also high for veterans of wars in Iraq and Afghanistan, where almost 215,000 veterans have been service connected for tinnitus and about 199,000 have been service connected for hearing loss. The two conditions account for 12.1% of all service-connected disabilities among veterans in 2010.
Drs Beck and Packer also focused on the combination of symptoms beyond hearing loss and tinnitus that are often reported by soldiers dealing with polytrauma, such as traumatic brain injury, memory loss, visual impairment, post-traumatic stress disorder (PTSD), and other issues. They emphasized that the military and VA work to coordinate care related to these multiple conditions, and also provide the best technology to patients to treat hearing loss and tinnitus. The speakers also discussed the substantial research efforts conducted in relation to the treatment of hearing loss and tinnitus management.
The sponsoring groups, organized as the Friends of the Congressional Hearing Health Caucus (FCHHC), plan to host a Hearing Screening Event & Reception on Wednesday, May 16, for Congressional staff and other guests. FCHHC members include the AG Bell Association for the Deaf and Hard of Hearing; Academy of Doctors of Audiology (ADA); American Academy of Audiology (AAA); American Academy of Otolaryngology-Head and Neck Surgery (AAO-HNS); American Speech-Language-Hearing Association (ASHA); American Tinnitus Association (ATA); Hearing Industries Association (HIA); Hearing Loss Association of America (HLAA); International Hearing Society (IHS); National Association of the Deaf (NAD); National Court Reporters Association; and Registry of Interpreters for the Deaf.
---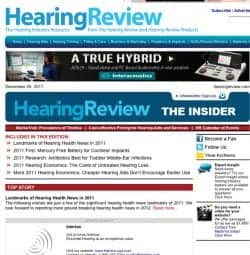 Get Your Weekly Edition of THE INSIDER
Every week The Hearing Review sends out THE INSIDER, a weekly FREE e-newsletter devoted to the top hearing-related news, research, product introductions, fitting topics, and marketing research stories that are influencing your business or practice, as well as the industry at large. [register]Sign up for your free subscription[/register].