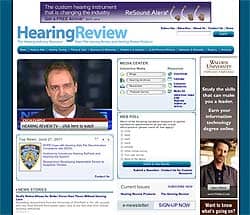 TOP NEWS and HEADLINES
NYPD Cops with Hearing Aids File Discrimination Complaints with EEOC
Early Intervention, ASL, and Parent Interaction Are Keys to Improving Deaf Children's Literacy Skills
FDA Clears New Alpha 1 (M) Magnetic Bone Conduction Hearing System
Panasonic Releases New Cordless Phone for People with Hearing Loss and Age-Related Conditions
Surprise! Mutation in a Muscle Protein Causes Hearing Loss
Self-Fit Hearing Protectors Being Launched in 25 Countries
Mayo Finds New Genetic Cause of Rare Hearing Loss Disorder
Audiotoniq Introduces Hearing Self-test and Hearing Aid System
Four Hearing Industry Distributors Form New Alliance
Sprint Launches Bundle of Android Apps for Hearing Loss Applications
Sonova appoints new CEO. Sonova Holding AG, Stafa, Switzerland—the parent group of Phonak, Unitron, Advanced Bionics, and InSound Medical—has announced that Lukas Braunschweiler will become the company's new CEO on November 1. Braunschweiler, 55, is a Swiss citizen and currently the CEO of the Swiss technology group Ruag, his most recent position in a long career that has spanned the Swiss and US high-tech industry.

Lukas Braunschweiler

"With Lukas Braunschweiler we have gained an experienced executive who has an impressive track record in the successful development of listed companies," said Sonova Chairman Robert Spoerry in a press statement. "Additionally, he has international experience and a profound knowledge of the high-tech industry. Moreover, his affinity for technology, along with his focused and structured—yet team-oriented—leadership style, fits well with Sonova's culture."

Before starting with Ruag in 2009, Braunschweiler worked for 7 years as CEO at Dionex Corp (now part of Thermo Fischer Scientific) in California, a Nasdaq-traded life-sciences company where he was reportedly instrumental in expanding and developing business. He also held various management positions at the precision instruments manufacturer Mettler Toledo, where his assignments brought him into close contact with Asian markets. Braunschweiler holds a doctorate in physical chemistry from the Swiss Federal Institute of Technology Zurich.

"Sonova is in many ways an exceptional Swiss high-tech company in an extremely exciting growth market," says Braunschweiler. "I'm looking forward to contributing, together with the Sonova team, to the continuation of this success story."

Alexander Zschokke will continue as interim CEO of the company until Braunschweiler assumes his position. Zschokke is responsible for Sonova's retail operations, and has been interim CEO since the departure of former CEO Valentin Chapero in late March after the company was hit by insider-trading allegations (see May 2011 HR).

"Getting such an experienced and successful executive as Lukas Braunschweiler on board is good for our company," says Zschokke. "I'm happy that on the first of November, I can hand over a strategically well-positioned and healthy company with a strong team. I look forward to supporting Lukas Braunschweiler when he joins our company."

Added Spoerry: "Out of a sense of loyalty and responsibility, Alexander Zschokke jumped in when our company was in a difficult situation, and in just a short period of time he brought calm and security back into our organization and made sure that we stayed on course. For that we owe him a great debt of gratitude."

Consumer study by Siemens points to need for robust hearing instruments. A recent consumer survey by Siemens Hearing Instruments, Piscataway, NJ, suggests the need for more robust hearing devices to accommodate today's active lifestyles. The study, which surveyed 500 US hearing aid users in three age groups (>65 years: 40%; 50 to 65 years: 40%; <50 years: 20%), indicates that users want to lead a more vibrant daily life, but feel bound by the shortcomings of today's hearing devices. Siemens conducted the survey in conjunction with its Aquaris hearing instrument (www.usa.siemens.com/aquaris), which is reportedly waterproof, dustproof, and shock-resistant.

According to Siemens, the survey results show hearing aid wearers are concerned about water damage to their hearing aids and refrain from activities they would otherwise enjoy, such as swimming or lounging in a hot tub. In addition to concerns about water exposure, many hearing aid wearers avoid activities that involve dust or dirt, like woodworking, farming, and construction. The top-7 risky behaviors cited by those surveyed include:

Shower or bath (95% of respondents);
Walking vigorously (44%);
Baking (37%);
Swimming in a pool (24%);
Lounging at a sandy beach (18%);
Biking (18%); and
Golfing (17%).

Nearly all survey respondents remove their hearing aids for water-related events, such as bathing and swimming. The survey also found that 1 in 6 people actually forgo certain activities altogether for fear of getting their hearing devices wet or dirty.

Close to 30% of the respondents reported their hearing aid use was routinely affected by weather, with 17% taking their hearing aids off when it rains, 9% not going outside, and 3% turning off their hearing aids.

"Around 9 million Americans who reportedly wear hearing aids are restricting everyday activities because traditional hearing aids naturally have limitations," says Alina Urdaneta, vice president of marketing at Siemens Hearing Instruments. "It's time that people with hearing loss are empowered to live their lives to the fullest—to feel free to participate in activities they enjoy without having to worry about their hearing aids."

Siemens Aquaris waterproof hearing instrument.

In an interview with HR, Urdaneta said that the Aquaris was first developed as more of a niche product, until survey and scientific evidence showed them that the waterproof, dustproof, and shock-resistant features appealed to a wider-than-anticipated user base. She points to the 53% of survey respondents who expressed interest in a sturdier hearing solution, more capable of handling a broader range of environmental situations. Further, more than 70% of respondents expressed interest in a waterproof device, with 63% and 60%, respectively, interested in shock-resistant and dustproof qualities.

The Aquaris is waterproof, as opposed to being water resistant, according to Siemens. Its housing is constructed from a single piece and features watertight seals and membranes, all of which have been tested and certified to receive the IP57 rating. This certification means it can be submerged in water up to 3 feet for 30 minutes with no damage, and dust will not interfere with device operation. Wearers can now participate in activities like water aerobics and still be able to hear the instructor. Its robust housing also means Aquaris is dustproof and shock-resistant, putting wearers' minds at ease during activities such as beach volleyball, woodworking, and baking, as well as in occupations like farming and construction.

"We are so proud to be the first manufacturer to offer customers a more robust and versatile hearing instrument specifically designed with today's active lifestyle in mind," said Tom Powers, PhD, vice president of audiology at Siemens. "It's understandable that hearing aids can get damaged with sweat, water, dust, and sand. But people shouldn't have to choose between the activities they love and the ability to hear."

The device is compatible with Siemens Tek™ and miniTek™ wireless enhancement systems, letting wearers take full advantage of streaming sound from Bluetooth®-enabled devices including mobile phones and MP3 players. When it is coupled with the new Siemens Aquapac, users can also listen to music while swimming or talk on the phone while washing the car, says the company.

Oticon Medical receives FDA clearance for Ponto Pro Power device. Oticon Medical, Somerset, NJ, has received FDA 510(k) clearance for its Ponto Pro Power, the most powerful fully digital and programmable bone anchored power processor, according to the company.

Ponto Pro Power is FDA approved for children and adults with conductive or mixed hearing loss up to 55 dBHL, as well as for patients with single-sided deafness who require an increased level of audibility. The new sound processor is built on Oticon's RISE sound processing platform and offers enhanced speech intelligibility and reduced feedback. The device has a sleek and ergonomic footprint and includes Speech Guard, an Automatic Multiband Adaptive Directionality system, two-stage Feedback Manager system, and Genie Medical 2011.1, an easy-to-operate computer fitting platform that includes BC In-situ Audiometry to enable practitioners to measure individual bone conduction hearing thresholds directly via the sound processor.

To optimize the fitting outcome and workflow for different user groups, Genie Medical also offers dedicated fitting modes and rationales for single-sided deafness. Genie Medical also allows patients to upgrade earlier versions of Ponto and Ponto Pro with the new power sound processing features, according to Oticon Medical.

Retrospective study: UNHS critical for language development. A researcher at Hanover Medical School, Hanover, Germany, has conducted a retrospective review of the effectiveness of universal newborn hearing screening (UNHS) studies and concludes that there is substantial evidence that UNHS programs are critical for speech and language development.

In a recent issue of Deutsches International, Martin Ptok published a review of studies found in the NHS EED (Economic Evaluation Database), HTA (Health Technology Assessment), DARE (Database of Abstracts of Reviews on Effectiveness), Clinical Trials, CDSR (Cochrane Database of Systematic Reviews), and PubMed. Ptok's paper, "Early Detection of Hearing Impairment in Newborns and Infants," shows that UNHS is best performed using OAEs and then automated assessment of the brainstem auditory evoked response. Children with positive screening tests for hearing impairment should undergo confirmatory testing as soon as possible and then receive the appropriate treatment. Early intervention is particularly critical for speech acquisition, says the report.

The study concludes that the scientific evidence favors UNHS for the early detection of hearing impairment.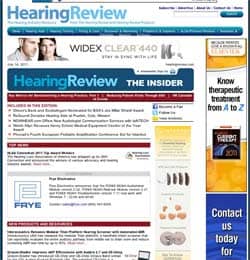 Get Your Weekly Edition of THE INSIDER
Every week The Hearing Review sends out THE INSIDER, a weekly FREE e-newsletter devoted to the top hearing-related news, research, product introductions, fitting topics, and marketing research stories that are influencing your business or practice, as well as the industry at large. [register]Sign up for your free subscription[/register].