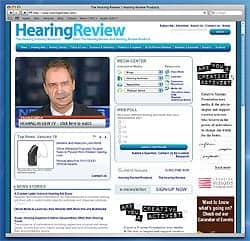 TOP NEWS and HEADLINES in January
New Hampshire Requires Insurers to Cover Hearing Aids
Siemens and HearUSA Lock Horns
New iPhone App for Testing Hearing and Hearing Aids
TSA Guidelines for Airport Screening of the Hearing Impaired Misleading
Another Risk to Hearing: Driving a Convertible
ReSound Becomes Exclusive Provider for Help America Hear
Another Study on Teen Hearing Loss: This Time, Only Girls More at Risk
Double Blind Study Shows Promise for Neramexane to Treat Tinnitus
NIH Research: Rebooting the Brain to Stop Tinnitus
CDC Offers Plenty of Free Hearing Loss Information Resources
Can People with Partial Hearing Loss Benefit from Hybrid Implants?
Hearing aid insurance mandates go into effect for North Carolina and New Hampshire (see this month's legislative update). As reported in last month's HR Online, New Hampshire passed a law effective January 1 that requires all New Hampshire insurance companies to cover the cost of a hearing aid, for each ear, up to $1,500, plus the related fitting and dispensing services. Insurers must provide coverage for the professional services associated with the practice of fitting, dispensing, servicing, or sale of hearing instruments or hearing aids by a hearing instrument dispenser or other hearing care professional.

A similar law went into effect on January 1 in North Carolina, with a coverage limit of $2,500 per ear every 36 months, and an eligibility cap of 21 years old. The two new laws bring the total number of states with hearing aid coverage mandates to 18, and a list of these appear in this edition of HR with commentary from HLAA.

Michigan falls just short in enacting hearing aid tax credit. According to the Hearing Industries Association (HIA), although Michigan hearing health activists were successful in their efforts to convince the state Senate to pass hearing aid tax credit legislation (MI S403), they were disappointed as the year ended without a House vote to adopt the bill. The legislation, sponsored by Sen Tupac Hunter (D-Detroit), would have provided a credit up to $1,500 for the purchase of a hearing aid by a person over 60 years old.

Efforts by members of the Michigan chapters of the Hearing Loss Association of America (HLAA), AG Bell, and the International Hearing Society (IHS), with assistance from HIA, resulted in securing the crucial support of key state senators and representatives, and the groups are reviewing plans to champion the issue again in the 2011/2012 legislative session. For more information on the bill, see the September 30, 2010, edition of HR Insider.

Siemens and HearUSA lock horns. Reports suggest that Siemens may try to acquire part or all of HearUSA after a dispute over payments reportedly owed to Siemens. In a filing with the Securities Exchange Commission (SEC), Siemens warned HearUSA shareholders that an acquisition of some or all of HearingUSA could cause the stock to be delisted.

According to the filing, on December 22, Siemens representatives spoke with HearUSA CEO Stephen J. Hansbrough and CFO Frank Punal regarding payment of $1.9 million due at the end of December, and $2.2 million at the end of January. HearUSA reportedly said that, if this payment was indeed owed, they would not be able to pay it, then requested financial assistance from Siemens. Siemens allowed deferment of $1 million of the $1.9 million due at the end of December to the end of January, but declined further support. "Subsequent to these communications with Mr. Hansbrough, [Siemens has] requested additional information regarding the issuer's financial condition and prospects," the SEC filing stated. "After [Siemens] receives and analyzes that information, they may decide to take no further action with respect to [HearUSA]. Alternatively, [Siemens] may seek to pursue a transaction in which they or their affiliates would acquire [HearingUSA] or some or all of its assets."

Siemens already owns 14.1% of the company, according to financial reports, and it supplies most of the hearing aids dispensed by HearUSA's reported 2,000 offices, 176 of which are company-owned centers.

HearUSA responded to the SEC filing by issuing a press statement from Hansbrough expressing disappointment about Siemens' "negative and heavy-handed approach… We are also concerned that the statements made by Siemens … fail to provide all of the facts about our relationship with them and our position. We raised legitimate contract issues with our strategic partner concerning their approach to our commercial relationship in what we understood was a confidential discussion… In spite of our disagreement with their positions, we continued our attempts to resolve the commercial issues and we clearly advised Siemens of our commitment to meet our obligations to them."

HearUSA will issue its year-end results sometime around March 24, 2011. Although Hansbrough expects a loss for the fourth quarter and the year, he states that steps have been taken to return to profitability, and average daily order dollars in the first quarter of 2011 are running about 13% ahead of last year's figures.

NIH research and Nature article: Rebooting the brain to stop tinnitus. New NIH-funded research from the University of Texas at Dallas and MicroTransponder Inc shows that, by stimulating certain nerves, the ringing sounds associated with tinnitus can be eliminated in rats. The researchers were able to eliminate tinnitus in the group of rats by stimulating a nerve in the neck and simultaneously playing a variety of sound tones during an extended period of time, says a study published in the journal Nature.

Similar to pressing a reset button in the brain, this new therapy was found to help retrain the part of the brain that interprets sound so that errant neurons reverted back to their original state and the ringing disappeared. When sensory cells in the inner ear are damaged, such as from loud noise, the resulting hearing loss changes some of the signals sent from the ear to the brain. For reasons that are not fully understood, some people will develop tinnitus as a result.

Michael Kilgard, PhD, (in front)
and Navzer Engineer, MD, PhD

"We believe the part of the brain that processes sounds—the auditory cortex—delegates too many neurons to some frequencies, and things begin to go awry," says co-principal investigator Michael Kilgard, PhD, an associate professor of behavior and brain sciences at UT-Dallas. "Because there are too many neurons processing the same frequencies, they are firing much stronger than they should be." In addition, the neurons fire in sync with one another and they also fire more frequently when it is quiet. According to Kilgard, it is these changing brain patterns that produce tinnitus.

The research team first sought to induce changes in the auditory cortex of a group of rats by pairing stimulation of the vagus nerve—a large nerve that runs from the head and neck to the abdomen—with the playing of a single tone. When the vagus nerve is stimulated, it releases chemicals that help encourage changes in the brain. The research team wanted to find out if they could induce more brain cells to become responsive to that tone over a period of time.

Through the use of various tones and the pairing of an electrode that delivered a small electrical pulse to the vagus nerve, they noted how many neurons were affected by the tones and stimulation. The researchers then tested whether tinnitus could be reversed in noise-exposed rats by increasing the numbers of neurons tuned to frequencies other than the tinnitus frequency. Rats that received the vagus nerve stimulation (VNS) paired with tones showed promising results for each time-point after therapy began, including midway through therapy, indicating that the ringing had stopped for the treated rats. Conversely, the data from control rats indicated their tinnitus had continued throughout the testing period. The researchers subsequently followed two treated and two control rats for an additional 2 months and found that the treated rats maintained this benefit for 3.5 months after noise exposure, while the controls continued to be impaired.

Overall, the researchers found that a treatment involving VNS, when paired with tones, had not only reorganized the neurons to respond to their original frequencies, but it also made the brain responses sharper, decreased excitability, and decreased synchronization of auditory cortex neurons. "The key is that, unlike previous treatments, we're not masking the tinnitus, we're not hiding the tinnitus," says Kilgard. "We are retuning the brain from a state where it generates tinnitus to a state that does not generate tinnitus. We are eliminating the source of the tinnitus."

VNS is currently being used to treat roughly 50,000 people with epilepsy or depression, and MicroTransponder hopes to conduct clinical studies using VNS with paired tones in tinnitus patients. "The clinical protocol is being finalized now and a pilot study in tinnitus patients will be conducted in Europe in the near future," says Navzer Engineer, MD, PhD, vice president of preclinical affairs at MicroTransponder.

For details on this study, see the January 13, 2011, HR online news article, "NIH Research: Rebooting the Brain to Stop Tinnitus." For background on Dr Kilgard's work, see the October 2002 HR article, "Texas-Sized Research: A Visit to UTD/Callier Center."

Audiology ranked in top-10 jobs in 2011. Technical fields are increasingly in demand in the modern age, and being an audiologist is one of the most highly rated of those jobs, according to CareerCast.com. The annual best and worst jobs report was just released and audiologists are in the top 10.

In fact, audiologists moved up a dramatic 34 spots from the 2010 report, previously ranking number 43. According to CareerCast.com publisher Tony Lee, who spoke with the Financial Post, the jump was due to more audiologists retiring and the fact that Baby Boomers are now approaching the age when they will begin to have hearing loss and require hearing aids.

The top rated job? With a boost from the development of apps for iPods, tablets, smart phones, and other devices, software engineer has jumped to the number one spot on the list. And the worst job? CareerCast.com advises you to avoid seeking roustabout positions. (A roustabout is a dirty, dangerous, low paying, and often stressful job in the oil industry.)

To see the 2011 rankings of the 200 best and worst jobs, visit www.careercast.com/jobs-rated/2011-ranking-200-jobs-best-worst.

NIH/NEJM research: Antibiotics best for toddler ear infections. New research funded by the National Institutes of Health (NIH) and published in the January 13 edition of the New England Journal of Medicine adds new evidence to the debate on the best treatment for middle-ear infections in young children. The researchers concluded that antibiotics had a significant reduction in both the severity and duration of symptoms compared with a placebo group.

The new findings are somewhat in line with another recent study published in the November 17 edition of the Journal of the American Medical Association, which also shows that using antibiotics to treat diagnosed acute ear infections in children is slightly more effective than no treatment; however, the study also concludes that antibiotic treatments may have side effects.

Most American children with middle-ear infections are treated with antibiotics. But for children with mild symptoms, US clinical practice guidelines generally recommend watchful waiting, reserving antibiotics for children whose symptoms do not improve with time.

In contrast, responding to concerns about the overuse of antibiotics, doctors in many European countries follow a strategy of watchful waiting for nearly all cases of middle-ear infections in children. Previous trials comparing the two strategies yielded conflicting results, chiefly, say the authors of the current study, because of differences among the trials in the definition of middle-ear infections.

In the NEJM study, the investigators randomly assigned 291 children between 6 and 23 months of age with acute middle ear infections, diagnosed by stringent criteria, to receive either amoxicillin-clavulanate or a placebo for 10 days. They found that those children in the treatment group had a significant reduction in both the severity and duration of their symptoms compared with those in the placebo group.

The study authors caution that these results must be weighed against concerns about the side effects of antibiotics and the potential emergence of antimicrobial resistance.

The study was funded by the National Institute of Allergy and Infectious Diseases, part of the NIH.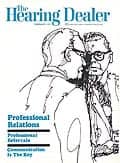 Hearing Dealer, Feb '71
Looking Back…
40 Years Ago in February 1971. The Hearing Dealer featured an article by father-and-son dispensers Tony and Joel Mynders titled "Professional Referrals" that detailed how to interact more successfully with audiologists (who at the time weren't permitted to dispense hearing aids) and otologists. (Tony Mynders was an influential leader in what would become the International Hearing Society and Joel is still an influential educator and member of HR's Editorial Advisory Board.) Additionally, Sam Hopmeier—who also was working in his father's business at the time and would become a president of IHS—wrote an article titled "Professional Relations" in which he outlined an idea for an ethics complaint procedure, proposed the establishment of an accredited college curriculum for hearing aid dealers at the junior college level, as well as to establish liaisons between schools of medicine, schools of speech-hearing, and the hearing industry. An article by Bruce Shapiro was titled "What You Can Do To Fight Mercury Pollution" and dealt with the proper disposal of hearing aid batteries.

1981 BHI Spokes- person Lou Ferrigno
30 Years Ago in February 1981. In Hearing Instruments magazine, Part 2 of a survey by Joseph Smaldino and Jeanne Hoene detailed "The Nature of Common Hearing Aid Fitting Practices," and an article by Jon Peters, Kathryn Beuchaine, Jan Reiland, and Don Worthington considered "ABR in the Evaluation of the Difficult-to-test Patient." Additionally, Edouard A. Gauthier of Phonemics looked at the "New Generation of ITE Hearing Aids." In the news, Lou Ferrigno, the star of the television hit The Incredible Hulk, agreed to be the Better Hearing Institute spokesperson during Better Hearing and Speech Month, which would be launched on May 1 with a special letter from President Reagan.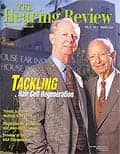 John and Howard House were on the cover of the February 2001 HR
20 Years Ago to February 1991. In Hearing Instruments, Sergei Kochkin published an article titled "Pre-test Results of Three Physician Education Programs" in which a "hearing pen" kit was actually used by one in four physicians. Additionally, an article by Telex's Harry Teder compared the response of a linear circuit, conventional compression amplifier, and a variable recovery circuit in speech and speech in noise. In the news, Brian Woodhurst was appointed the new president of Rexton, and Al and Bobby Unser were starring in BHI television PSAs made possible by a special grant from Starkey Laboratories.
10 Years Ago to February 2001. HR's cover story was on the House Ear Institute and featured an article from Andrew Grove and Neil Segil titled "The Challenge of Hair Cell Regeneration." Another staff-written article, "An Industry in Transformation: Technology and Consolidation Lead the Field into a New Millennium," detailed how the consolidation movement and digital instruments were reshaping the industry. Randi Pogash and Curtis Williams published an article titled "Occlusion and Own-Voice Issues: Protocols and Strategies" while Joel Mynders published an opinion article, "Disposable Hearing Aids: Advice and Suggestions," in response to the new Songbird hearing device. The news noted that industry groups were petitioning the FCC in an effort to halt the auctioning off of the 216-220 MHz bandwidth, and UTD/Callier Center announced that they would be offering the AuD degree.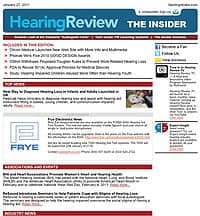 Get Your Weekly Edition of THE INSIDER
Every week The Hearing Review sends out THE INSIDER, a weekly FREE e-newsletter devoted to the top hearing-related news, research, product introductions, fitting topics, and marketing research stories that are influencing your business or practice, as well as the industry at large. Sign up for your free subscription at www.hearingreview.com.