Siemens Hearing Instruments Inc
William Lankenau
Siemens Hearing Instruments (SHI) Inc, Piscataway, NJ, announced that William Lankenau, the company's president and chief executive officer, would retire effective December 31, 2006, after more than 16 years of service. Lankenau would be succeeded by Christi Pedra, the chief operating officer of Siemens One.
Lankenau formally announced his retirement on December 4. "I'm extremely proud of the work done by all of the employees of SHI during my time as president and CEO," Lankenau said. "Siemens' goal has always been, and will continue to be, to assist our customers with their business by providing high-quality, technically advanced hearing instruments and technologies for their patients. The SHI family continuously strives for this goal by creating innovative products and providing the best service in the industry."
Lankenau began his career with SHI in 1990 as vice president of operations and manufacturing. He was instrumental in implementing the flow manufacturing process with Siemens Hearing worldwide and established the US operations as the worldwide competence center for custom hearing aid manufacturing. Lankenau also led Siemens to become the first hearing instrument manufacturer to earn ISO 9001 registration in the United States.
In June 2000, Lankenau was promoted to COO, and 2 years later to CEO of SHI. Since that time, his leadership of SHI has provided guidance to all Siemens Hearing businesses in the US and Latin America. During his stewardship, Siemens introduced e2e wireless™ and DataLearning™ and pioneered the use of its LasR (Laser Accurate Scan Replication) shell manufacturing. Lankenau is well regarded within the Siemens Hearing organization and the industry. He holds board of directors positions with the Hearing Industry Association (HIA) and the Better Hearing Institute (BHI).
Pedra joined Siemens in 1986 via the acquisition of ROLM by Siemens Information and Communication (I&C). While with I&C, she grew her career in various senior management roles in sales and marketing. In 2001, Pedra helped launch Siemens One as vice president of executive relations and was promoted to COO in 2004. Pedra is a member of the National Collegiate Athletic Association Leadership Advisory Board and serves on the National Council for Liberal Education America's Promise. She is involved in several formal and informal mentoring programs. Pedra is also a member of the advisory committee for the Women's Information Network at Siemens.
Keri Morgan
In other company news, Siemens appointed four field sales representatives to its Government Services team. Mark Berke is responsible for Siemens' southern territory. Berke has 8 years of experience as an audiologist in the Veterans Affairs Health Care System and is an officer in the US Army Reserve. He received his master of arts degree in communication disorders from the University of South Dakota.
Keri Morgan is assigned Siemens' south central territory. Morgan has more than 15 years of dispensing experience, and worked as an audiologist at St. John's Clinic, Springfield, Mo, before joining Siemens. She received her doctorate of audiology from Arizona School of Health Services.

David Horowitz
David Chiaravalli is responsible for Siemens' western territory. Prior to joining Siemens, Chiaravalli worked as an audiology trainee at the Veterans Affairs Health Care System, Tacoma, Wash. He recently received his doctorate of audiology from the University of Washington.
David Horowitz is responsible for Siemens' northeast territory. Prior to this position, Horowitz spent one year as inside audiology support for Siemens' Government Services team. He received his master of science in audiology from Adelphi University and is working toward his doctorate of audiology at the Pennsylvania College of Optometry.
Widex Hearing Aid Co

Corrine Masto
Widex USA has promoted Corrinne Masto to materials manager in the Operations Department. Masto has been a valued part of the Widex organization for 9 years serving as a customer service supervisor. It was here that she worked closely with all departments and became recognized for her invaluable contributions and achievements. In her new role, she is now responsible for overseeing the material functions throughout the company, as well as managing the Stock and Supply, Shipping and Receiving, and Order Entry Departments.
Better Hearing Institute
The Better Hearing Institute (BHI), Alexandria, Va, announced that Duke Fakir, a long-time singer with the popular group, The Four Tops, will promote the benefits of better hearing through the use of digital hearing aids as a member of BHI's "Circle of Celebrities", according to Sergei Kochkin, PhD, BHI's executive director.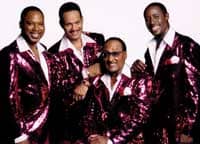 Duke Fakir, second from right, and The Four Tops.
Fakir, who has moderate hearing loss in both ears, was fitted with two hearing aids by Kelly Halligan, AuD, of Northglen, Colo. He called the hearing aids "sleek and sexy and completely unlike hearing aids a generation ago."
"I love them. I have noticed improvements in both my personal and professional life," Fakir said.
Fakir joins more than 60 celebrities who have, in the past 3 decades, volunteered to be public spokespeople and supporters of better hearing by working with the BHI, Kochkin said. The celebrities participate in public meetings and speak to the media about the need for people with hearing loss to seek professional evaluation. In the past, some have also appeared in television public service announcements.
Kochkin said Fakir will join the organization's advisory council as well as its Circle of Celebrities. The most recent other new celebrity member is Vinton Cerf, PhD, known as one of the "Fathers of the Internet."
Fakir said his message to others with hearing loss will be to "admit you can't hear and seek help. Today's technology is efficient and nearly invisible. Imagine not straining to hear every word. Imagine being able to participate in conversations, and hearing your grandchildren. It's great.
"When I listen to my music in the car, I can hear the sounds deeper into the music, like cymbal beats and little tinklings that I missed before. I can hear my voice better when singing. Social gatherings are easy now," he said.
"My advice for people who think they may have hearing loss is not to wait any longer. Find out if your hearing loss can be corrected with modern hearing devices," he said.