Open Fitting Instrument
Audina Hearing Instruments, Longwood, Fla, announces the ARC™ 100% digital open fitting hearing instrument. It features advanced technology, including 20-bit digital audio processing, delivering sophisticated sound quality, reduced distortion, and 128 bands of noise reduction. The shell design helps reduce the occluded sensation. Other features include Adaptive Feedback Cancellation 2.0, and 16kHz bandwidth. (407) 331-0077; www.audina.net.
---

Digital Hearing Instrument
Starkey Laboratories, Eden Prairie, Minn, offers the Mesa digital hearing instrument. Its precision frequency resolution offers eight independent band frequency shaping with 2 dB resolution. Features include precision directional imaging to enhance speech understanding, adaptive noise management, adaptive feedback cancellation, multi-channel expansion, wireless FM and direct audio input, and a tamper resistant battery door. For a limited time, Starkey is offering $100 off the purchase of the Mesa digital hearing instrument. (800) 328-8602; www.starkey.com.
---

Portable Shell Curing System
Lightning Enterprises, Limington, Me, announces Spotty-P, a portable UV LED Cure system capable of curing UV lacquers, coatings, and adhesives. The Spotty-P system includes a handpiece, LED cure head, white light inspection head, 120V wall transformer, 9V battery pack for remote operation, UV safety glasses, and hard-shell carrying case measuring 12 inches by 8 inches, and includes extra space for tools and UV materials. (877) 546-1797; www.lightningenterprises.com.
---

Safety Earmuffs
Bacou-Dalloz Hearing Safety Group, Smithfield, RI, introduces the Bilsom® Leightning® Hi-Visibility Earmuffs that conserve hearing while providing visibility through its reflective headband. It provides consistent noise attenuation, especially at low frequencies. Fluorescent green earcups contrast against dark backgrounds, in low-lighting or bad weather. Snap-in ear cushions are replaceable if damaged or soiled. A steel wire headband provides durability while the foam-padded headband provides longwearing comfort. (800) 430-5490; www.hearingportal.com.
---

Compact Speech System
MedRx Inc, Largo, Fla, announces the AVANT REM Speech™ system. The super-compact PC/USB-based instrumentation—measuring 4 inches by 4 inches by 1 inch, and weighing 1 pound—is a Live Speech Mapping system that also provides a comprehensive traditional real-ear system. The MedRx Hearing Loss Simulator, a demonstration system for third parties and a Hearing Instrument Simulator are embedded in the AVANT REM Speech system. A USB connection to the computer is all that is needed to run the system. It is NOAH™3 compatible. (888) 392-1234; www.medrx.com.
---

PC-based Audiometry
GN Otometrics, Schaumburg, Ill, offers the MADSEN Conera™ for PC-based audiometry. Conera offers its users enhanced reporting features, seamless connectivity, and a user-friendly design. Features include USB connectivity, binaural SPL audiometry, support for digital speech lists, XML data export, the capability of connecting two sets of transducers, tymponometry, and diagnostic audiometry printouts and electronic reports. Users are also able to email clinical reports in PDF format. (800) 289-2150; www.gnotometrics.com.
---

BTE Speech Processor
MED-EL, Durham, NC, offers the TEMPO+ BTE speech processor. The system contains a speech processor control unit, coil, coil cable, and four available battery packs. A built-in status light will blink if the processor needs special attention. With SoundGuard™ technology, if a problem is detected, stimulation will stop and the status light will blink. Turning the unit off, then on again restores mapping data. TEMPO+ offers an Input Dynamic Range of 75 dB with a 55 dB adjustable sound window. (800) 633-3524; www.medel.com.
---

Communication System
ClearSounds®, Burr Ridge, Ill, offers the Sound Wizard II, a complete communication system. The basic unit is designed to transform muffled sounds into clear reception for clear communication. It features a volume control up to 40 dB, LED power indicator, a directional microphone, an omni-directional microphone, infrared module plugs for picking up IR signals, and a dual headset jack for multiple users. Standard features include dual mini-earbuds, neck lanyard, short phone cord, two AA batteries, soft carry case, IR receiver module, and phone module. (800) 965-9043; www.clearsounds.com.
---

Middle Ear Fluid Device
Micromedics, St. Paul, Minn, offers EarPopper™, a non-invasive device for middle ear fluid. The hand-held, battery-operated device is said to deliver a constant, controlled stream of air pressure and flow into the nasal cavity, diverting air up the Eustachian tube when the patient swallows, and reportedly ventilating the middle ear and restoring hearing. The EarPopper also treats Eustachian Tube Dysfunction, Aerotitis, and Barotitis. The device reportedly can be used at home with a prescription. (800) 624-5662; www.micromedics.com.
---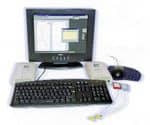 Diagnostics System
Synapsys, Austin, Tex, offers AURIS II EP, a full-featured auditory evoked potential diagnostics system designed for evaluation of auditory function. With two independent acquisition channels, AURIS II EP features middle latency AEP, late latency AEP, ABR, and ECoghG. An automatic mode allows a user to locate one of several markers on one or all waveforms. It allows up to 24 waveforms to be displayed in a split screen mode. The database allows for test storage and archiving. (866) SYNAPSYS; www.synapsysusa.com.
---

Loop Receiver
Oval Window, Nederland, Colo, offers the Induction Loop Receiver, a product that is compatible with all induction loop assistive listening systems. Features include lightweight headphones, built-in neck cord, LED loop signal strength indicator, battery check, large volume control, maximum 110 dBA SPL, and rechargeable options. (303) 447-3607; www.ovalwindowaudio.com.
---

Hand-held Screener
Otodynamics Ltd, Hatfield, UK, offers the ECHOCHECK hand-held screening device for newborn hearing assessment programs. The device incorporates ILO88 nonlinear TEOAE acquisition and validation system to ensure reliability. It features an LED readout of the OAE dB SPL, test ID number, internal time and date. Up to 96 test results can be stored in the device and downloaded to a user's PC. The standard ECHOCHECK will print a test report directly on a label printer. An optional battery powered, portable mini-printer is available. (800) 659-7776; www.otodynamics.com.