Clowers Resigns as IHS Director; Board Appoints Helms
Livonia, Mich — Long-time industry leader Robin Clowers has stepped down as the executive director of the International Hearing Society (IHS), effective at the start of 2005, due to health reasons. Succeeding her is Cindy Helms, who has served IHS for the past 7 years.

Robin Clowers (right), pictured here at the 2003 annual convention with long-time colleague Phillis Wilson, has stepped down as IHS executive director after nearly 15 years in a leadership position.
Clowers, who has been associated with IHS for over 30 years, was originally a hearing aid specialist in Seattle, where she became active in what was then called the National Hearing Aid Society (NHAS). She was elevated to president-elect of NHAS in 1986 and served as the organization's leader through the tumultuous and fruitful late-80s, being named NHAS executive director in 1991. With her help and guidance as a volunteer, board member, and director, the organization started publishing educational books with NIHIS, agreed to terminate the use of the title "certified hearing aid audiologist," and developed crucial educational and certification programs. She has also played prominent roles in virtually every important industry event from the White House Conference on Small Business in 1986 to the FDA Hearings in 1993 to informing legislators about the merits of the hearing aid tax credit in 2004. She has also played a role in transforming IHS into an international organization with sister chapters and organizations in several countries, including Canada, the United Kingdom, and Japan. Among many honors from the Society, Clowers is the recipient of the 1991 Hearing Instruments Distinguished Service Award.
Clowers resigned her position after nearly 15 years of service. Known for her hard-driving work ethic and diagnosed with multiple sclerosis in early 2003, the daily demands of managing IHS had become taxing and threatened the prospects of her long-term health.
She says that, during her tenure, she is particularly proud of the way IHS leadership has built bridges with other professions, as well as trade and consumer organizations. "It's well known that there are several differences in opinion between the various hearing-related societies and disciplines," says Clowers. "However, what I'm most proud of—and what I remember most—are those numerous times when we sought out common ground and worked together toward solutions that truly affected positive change for individuals with hearing impairment. Whether it was the Hearing Industries Association, the American Speech-Language Hearing Association, the American Academy of Audiology, the Academy of Dispensing Audiologists, or our dear friends at the American Academy of Otolaryngology-Head and Neck Surgery, what made the job truly fun and special were those occasions when we could all move toward a common goal. And, particularly in those instances, I think we saw relatively quick action and far-reaching results."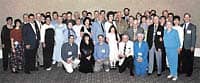 Cindy Helms takes over as executive director of IHS.
In response to Clowers' planned departure, the IHS Board of Governors announced that Cindy J. Helms has accepted the position of IHS executive director, effective January 1, 2005. Helms brings 20 years of association management experience to the position, and has been affiliated with IHS since 1997. As second in command, Helms worked closely with Clowers in many areas of operations. As an IHS staff member, she performed the multi-tasking role as director of marketing, communications and e-education, as well as managing editor and director of advertising for The Hearing Professional magazine. Her work experience also includes serving as executive director of Leadership Michigan, director of education for the Michigan Chamber of Commerce, and directorship in the American Hotel and Motel Association's Educational Institute. She holds professional certifications in total quality management, business education, human relations, and convention management. She says that she has a great advantage in having already worked with the headquarters staff and has great expectations of what they can accomplish together.
"Cindy's vision for the Society is one shared by every member of the Board of Governors and we are moving forward with great confidence and enthusiasm," says IHS President Harlan Cato, BC-HIS.
"Cindy was the ideal choice and I am pleased—to say the very least—that she will be taking over the helm of IHS," says IHS Program Manager Susan Stewart. "Her decisive leadership style and creative ideas are strengths that will serve the Society well."
"It's a great privilege to serve the Society in this important capacity," says Helms. "I have a deep admiration for the wonderful work of this profession and the exceptional dedication of our members to improving quality of life for the hearing impaired."
---
Hearing Aid Sales Top 2 Million Units in 2004
Alexandria, Va– It's official. According to statistics released by the Hearing Industries Association (HIA), hearing aid purchases in the United States exceeded 2 million units in 2004 for the first time in history. In 2004, 2,146,095 net units were dispensed—a 7.5% increase over 2003. The increase in sales makes it the second year in a row in which hearing aid sales increased, and followed a four-year period of flat sales (-1.3% to 2.0% annual growth from 1999-2002). When government purchases of hearing aids are ignored, dispensing volumes rose by 6.8% in 2004 after a 2.6% increase in 2003. Major dispensing states experiencing sizable sales gains included California (9.3%), Illinois (8.0%), New Jersey (10.0%), New York (9.5%), Ohio (11.5%), Pennsylvania (10.4%), and Washington (9.5%). Dispensing powerhouses Florida (1.9%), Texas (2.0%), and Michigan (4.3%) experienced smaller gains.

Total US net unit hearing instrument sales (top) and percentage increase/decrease compared to the previous quarter (bottom) for the years 2000-2004. Unit sales began to accelerate significantly in the 3rd quarter of 2003 and continued through the end of the year, while the percentage in unit volume was accentuated by the relatively poor sales from mid-2002 to mid-2003. Source: HIA.
"This second million mark is an important one, but it took much too long to get here," says HIA Chairman Jerry Ruzicka, president of Starkey Laboratories. "With the help of President Reagan, the industry topped the million mark in 1983, and together we must all ensure that it is not another two decades for the next million." He notes that HIA programs for 2005 and beyond, including the Association's aggressive support for a hearing aid purchase tax credit, are all targeted to the goal of increasing the absolute numbers as well as market penetration rates.
Although the larger quarterly percentage increases in 2004 can be viewed as the result of the lagging sales during 2002-2003 (see graph), it should be noted that the year was also the first in which sales exceeded 500,000 units in every quarter.
Continuing a trend that has intensified dramatically over the last 4 years, 83% of the hearing aids purchased in 2004 were digital. Digital hearing aids made up 66%, 45%, and 27% of the market in the years 2003, 2002, and 2001, respectively. BTE use has increased to 26.4% in 2004 compared to 21.9% in 2001.
The members of HIA have voluntarily contributed sales statistics for the last 40 years, enabling what was originally an group of small, entrepreneurial, privately-held businesses to track the growth of the US hearing industry. "The HIA Statistical Program has really allowed our members to see how well they are doing together in meeting the needs of people with hearing losses," says HIA Executive Director Carole Rogin. "Without this program, there would have been no more than anecdotal information about hearing aid use. The program has progressed from a report that reflected only gross sales of the member companies to a rich report…[with] important market information."
HR will present its annual analysis of the HIA statistics, along with prospects for what may come in 2005 and beyond, in our March edition.
---
GN Otometrics Restructures North American Operations
Bloomington, Minn — GN Otometrics (GNO) is restructuring and consolidating its North American operations, according to the company. The Bloomington, Minn, facility will close, and all operations will transfer to GNO's Schaumburg, Ill, facility. The transition began in early January and will be complete by the end of the first quarter of 2005.
The facility that was formerly ICS Medical's headquarters in Schaumburg, Ill, will now house all inside sales, customer support, technical support, training, shipping, and general business functions for all ICS and Madsen product lines. The company says that several key staff members of the Bloomington facility, which served as Madsen's headquarters, will relocate to Schaumburg, ensuring the retention of valuable technical expertise in the Madsen product line.
"This restructuring is the next logical step in our ongoing mission to provide our customers with premier products and service," says Soren Holst, president of GN Otometrics. "Consolidating all of our operations at a single site makes it easier and more convenient for our customers and distributors to contact and work with us."
By March 1, 2005, all goods supplied to the North American market will be shipped out of Schaumburg, and by March 31, the consolidation will be complete.
For more information about GN Otometrics, visit www.gnotometrics.com.
---
Phonak Introduces Savia Digital Instrument
Chicago– Phonak Inc, Warrenville, Ill, launched its new digital hearing instrument, Savia, at a reception held in Chicago's Union Station on January 29. The new product, says Phonak President Cathy Henderson Jones, is designed to "make lives better for individuals with hearing impairment," and is the result of more than 5 years of development involving thousands of hours of work and "lots and lots of dollars" in research and development.

Long-time industry leader Mike Jones, Phonak President Cathy Henderson Jones, David Fabry, and Ora Buerkli-Halevy take a moment to admire a snow owl during the launch of Phonak's new Savia digital hearing system.
Jones offered a retrospective look at Phonak technology and the company's substantial role in introducing new innovations to the hearing instrument market—including but not limited to audio input, super-compression, 2-microphone directional systems (AudioZoom), directional vs nondirectional remote controls and line-of-sight remote controls, headworn synthesized FM, and, more recently, wireless CROS for digital aids. She says that, likewise, Savia provides a number of "firsts" in one hearing aid.

Phonak Director of Clinical Research David Fabry demonstrated the features of the Savia, as well as showed the new software and datalogging features of the device.
To demonstrate this, Phonak AG's Ora Buerkli-Halevy, MSc, detailed what the company views as "10 more firsts" offered by the new instrument, including Autopilot (a sound navigation system that automatically adjusts to calm environments, speech in quiet, speech in noise, and music); a digital 20-channel directional microphone system capable of attenuating noise at many discreet frequencies (Digital SurroundZoom); a Sound Cleaning system that includes Echoblock for reverberant environments, a feedback phase inverter, and a 2-stage wind noise canceller; Datalogging (see the article by Fabry & Tchors in the January issue of HR); a new computer chip with low power consumption; a new ergonomic design; and completely new programming and counseling software.
Phonak Director of Clinical Research David Fabry, PhD, proceeded to examine many of these features in a live, real-time demonstration using a KEMAR-like mannikin wherein the audience heard through the hearing aids via infrared headsets. In particular, Fabry demonstrated the music, noise reduction, and directional effects of the Savia system. He drew comparisons of the advanced directional technology of the new hearing aid to the hearing mechanisms of owls whose hearing and the orientation of its feathers are uniquely adapted to help it hone in on faint signals—hence, the Savia's use of the owl in its promotions.
The event was capped off with the display of a beautiful snow owl, live music, and dancing. For more information on Savia, visit the Phonak Web site at www.phonak-us.com.
---
BHI Names Sagolla New President
Alexandria, Va — The Better Hearing Institute (BHI) announced the election of Stephan Sagolla as BHI's 2005 president, beginning January 3. Sagolla brings 25 years of extensive experience as a medical executive and marketer to BHI. He succeeds Mikael Worning, president of Oticon Inc, who has led BHI over the past 2 years and will continue as a BHI officer in his capacity as immediate past president.

BHI President Stephan Sagolla.
Sagolla has been president & CEO of Interton Inc, Plymouth, Minn, for the past 4 years. Prior to 2001, Sagolla was managing director of Philips/Beltone-Europe, and has also held various sales and marketing positions in Europe for Coloplast AS, Mentor Corporation, and Smith Kline Beecham.
"The potential for BHI to inform physicians and educate the public about hearing loss and hearing instruments was apparent to me as soon as I opened Interton operations in the United States," says Sagolla. "I am proud to have our company associated with the Institute and very pleased with the opportunity and challenge of guiding BHI programs this year."
"Stephan has a genuine understanding of the hearing instrument market, as well as a proven track record as a strategic sales and marketing professional," says BHI Executive Director Sergei Kochkin, PhD. "BHI is excited about the leadership skills he brings to our association, especially as we expand our marketing communication efforts beyond the medical sector."
Continuing to serve on the BHI Board of Directors with Sagolla are Worning; Cathy Jones, Phonak Inc; William Lankenau, Siemens Hearing Instruments, and Jerry Ruzicka, Starkey Laboratories Inc. Additionally, Gora Ganguli of Gennum Corp was recently elected to the Board for a 3-year term as secretary/treasurer.
---

Clarity Exhibits at Consumer Electronics Show
Las Vegas — Clarity, Chattanooga, Tenn, a division of Plantronics and the maker of amplified phones and cordless phones for hearing impaired individuals, exhibited their products in January at the world's largest convention, the International Consumer Electronics Show (CES). The International CES draws more than 140,000 attendees from 115 countries, and witnesses the introduction of thousands of new products and technologies from more than 2,500 exhibitors.

Clarity President Carsten Trads explains that it is important for retailers and consumers to be continually reminded of the value of assistive device technology, and CES is a positive step in promoting these products. "Hearing loss is a condition that is continually moving downward in terms of age," says Trads. "At one time, the hearing industry was concentrating on people over age 65, and now we're encountering much younger people. The Baby Boom generation is making its presence known." Recent data from a study conducted by the EAR Foundation and Clarity indicates that about half (49%) of the nation's 76-million baby boomers are experiencing some degree of hearing loss, a dramatic increase compared to previous surveys (see Dec HR News, p 62).

Trads points out that it's important for younger/mild-loss patients to enter into the "hearing care pipeline" as soon as possible, and ALDs and amplified telephones provide an excellent means for accomplishing this objective.
---
Hearing Aid Tax Credit Bill Reintroduced in Congress
Bethesda, Md — Congressman Jim Ryun (R-KS) has reintroduced legislation for the "Hearing Aid Assistance Tax Credit Act," according to the Hearing Industries Assocation. The Congressman was joined by 20 original co-sponsors.
The reintroduced bill is identical to last session's HR 3103, also authored by Congressman Ryun, and would provide $500 towards the purchase of a hearing aid, once every 5 years, for individuals under the age of 18 or for those age 55 and older, or those purchasing a hearing aid for someone under 18.
HIA says that the 20 original co-sponsors demonstrate that the legislation has great initial momentum. On May 18, HIA will be holding its "Hearing on the Hill" event with its coalition partners that include the American Academy of Audiology, the American Speech-Language-Hearing Association, The Deaf and Hard of Hearing Alliance, the International Hearing Society and Self Help for Hard of Hearing People. Congressman Ryun has been invited, along with Senator Norm Coleman (R-MN), to co-host this year's event.
One legislative emphasis in 2005 will be to convince Senators to become co-sponsors of the bill, and the coalition will be enlisting its members to help in this initiative. For more information on The Hearing Aid Assistance Tax Credit Act, see the Dec 2003 HR, p 12 and the March 2004 HR, p 8.
---
Rescreening Recommendations Reported in Journal of Pediatrics
Dallas, Tex—Universal screening of newborns' hearing at large public hospitals, which annually deliver tens of thousands of babies, can be done more effectively when infants are not only tested four hours after birth—as required by many states—but also by rescreening those with a suspected problem before discharge and, if necessary, retesting infants at 10 days old, UT Southwestern Medical Center researchers reported.
A 4-year study at Parkland Memorial Hospital, published in the January edition of the Journal of Pediatrics, showed that rescreening infants who fail the Universal Newborn Hearing Screening (UNHS), given 4 hours after birth, reduces the number of false positives, and that providing outpatient retesting at the birth hospital improves the number who returned for follow-up.
"Our study demonstrates that Universal Newborn Hearing Screening can be successfully implemented in a public hospital that has a larger number of annual births than many US states and territories, including Rhode Island, New Hampshire, the Virgin Islands, and Guam," says Angela Shoup, PhD, assistant professor of otolaryngology-head and neck surgery, who leads UT Southwestern's communicative and vestibular disorders program.
Doctors at Parkland-UT Southwestern, faculty physicians, and medical residents deliver nearly 17,000 babies a year, more than any other US hospital. Selective hearing screening for high-risk and neonatal intensive care unit newborns has been conducted since 1986. Universal screening of all neonates was begun in 1999. Babies who do not initially pass are rescreened by technicians before being discharged from the hospital. Parents of those babies who still show signs of impairment are instructed to bring them back to Parkland as outpatients to be retested 10-12 days after discharge. Only those babies who do not pass again are referred for diagnostic evaluation.
"Newborns may not pass the initial hearing screening for a variety of reasons, including debris in the external ear canal and fluid in the middle ear," says Shoup. "Rescreening prior to discharge from the hospital can help prevent over-referral of infants for diagnostic evaluation. Also, by offering outpatient rescreening first at Parkland, where the babies were born, we are encouraging parents to return to an environment and system where they are comfortable. Then, if they need to be referred for diagnostic evaluation, the audiologist overseeing the screening program can assist the family with navigating the often complex health-care system."
"Our changes to UNHS led to a decrease on the burden on health-care resources and limited the number of families that must deal with the uncertainty of hearing loss in their newborns," says Kris Owen, faculty associate of otolaryngology-head and neck surgery at UT Southwestern and coordinator of Parkland's UNHS program. "Healthcare providers view hearing screening results more seriously in a program with few false positives."
Dr. Greg Jackson, associate professor of pediatrics at UT Southwestern, and Dr. Abbot Laptook, now at Brown Medical School, also participated in the study. The Hoblitzelle Foundation made UNHS possible with a challenge grant to Parkland.
---
Bio-Logic and HEI Partner to Develop New HINT & SAINT Tests
Mundelein, Ill — Bio-logic Systems Corp announced the signing of an exclusive 5-year license agreement with the House Ear Institute (HEI) to develop and commercialize a product for hearing assessment based on proprietary technology developed by House Ear scientists.
The product will use the HINT (Hearing In Noise Test), which has been used to evaluate the functional hearing capabilities of individuals in hearing-critical jobs such as law enforcement and emergency assistance, as well as hearing aid users and cochlear implant users. Additionally, foreign-language modules of the HINT in 11 languages allow for international testing and data collection worldwide.
"Previous success and Bio-logic's reputation as a technology leader in our industry has once again led us to partner with the House Ear Institute on this new project to further advance their innovative HINT (Hearing In Noise Test) and SAINT (Source Azimuth Identification in Noise Test) technologies in the marketplace," says Bio-logic Systems Corp Chairman and CEO Gabriel Raviv. "Previous collaborations have resulted in our successful ABaer® and Stacked ABR™, and also in our newest product, CHAMP™, which is used in the detection of Meniere's disease."
The HINT requires patients to recognize and repeat short sentences. The subject's sentence recognition reception threshold is obtained under four headphone or loudspeaker test conditions that sample a range of binaural directional hearing ability: speech in quiet or with noise coming from different directions. Noise is presented at a fixed level of 65 dB, and the level of speech is adaptively varied depending on the response of the subject.
The SAINT is also administered either with headphones or loudspeakers, and the subject is required to identify the location of sounds presented in quiet or with noise that originate from different positions around the subject. Both tests can be administered in a few minutes to characterize the subject's functional hearing abilities.
"The original versions of the HINT and SAINT have been used successfully by fire and law enforcement departments in the US and Canada," says Sig Soli, PhD, vice president of technology transfer at HEI. "We anticipate that our partnership with Bio-logic will help us extend the use of our foreign language modules of HINT and SAINT in international markets for wider-reaching benefits."
This new project represents Bio-logic's initial entry into the behavioral auditory market. The company says that, with the heightened noise levels found in much of our environment today, this unique testing technique utilizing a combination of functional hearing measures both in quiet and in noise is predictive of real-world functional hearing ability. It is particularly important that children in a classroom setting are accurately assessed so that appropriate remedial steps can be taken at an early age to maximize their learning experience. In addition, there are numerous applications where adults also can benefit from this technology in their everyday lives, according to the company.
---
CNN Program Cites Advanced Hearing Aids as One of Top Innovations in Last 25 Years
CNN, in collaboration with the Lemelson-MIT Program, has included advanced hearing aids on its list of the most important innovations of the last 25 years. The one-hour special, Top 25 Innovations, was hosted by Miles O'Brien and aired January 16 and January 22.

Brian Hill, International Business Development Manager of SeboTek, and Miguel Gimeno, Managing Director Multiacústica SL, Alicante, Spain.
The list of 25 top innovations highlighted non-medical technological innovations that have become widely used since 1980, are readily recognizable by most Americans, have had a direct and perceptible impact on everyday lives, and/or could dramatically affect our lives in the future.
The countdown started with #25—short-range, high-frequency radio (ie, the premise behind WiFi and Bluetooth)—then moved onto advanced hearing aids with digital and directional features and assistive devices, explaining how the devices have progressed in technological sophistication and performance. The show eventually progressed to the #1 invention, the Internet, which became readily available with the creation of the web in 1991.
The Lemelson-MIT Program conducted preliminary research for the list, then gave it to faculty at the MIT School of Engineering, who ranked the items and expanded the list. From there it went to a panel of technology experts outside MIT. Under the chairmanship of Dr. Merton Flemings, director of the Lemelson-MIT Program, a sub group of the panel of experts ratified the final 25 ranking.
"This list of 25 innovations is dramatic evidence of the extraordinary rate of technological development during the last quarter century," says Flemings. "Most of the innovations on the list are already household words; they have all enriched our lives."
The list of the top-25 innovations: 1) Internet; 2) cell phone; 3) personal computers; 4) fiber optics; 5) email; 6) commercialized GPS; 7) portable computers; 8) memory storage discs; 9) consumer level digital camera; 10) radio frequency ID tags; 11) MEMS; 12) DNA fingerprinting; 13) air bags; 14) ATM; 15) advanced batteries; 16) hybrid car; 17) OLEDs; 18) display panels; 19) HDTV; 20) space shuttle; 21) nanotechnology; 22) flash memory; 23) voice mail; 24) modern hearing aids; and 25) short-range, high-frequency radio.
---
Sebotek Expands Distribution into Spain
Bloomington, Minn — SeboTek® Hearing Systems appointed Multiacústica SL of Alicante, Spain, as its newest distributor. Multiacústica, an experienced supplier of hearing instruments and accessories, will distribute Voice-Q™ Post-Auricular Canal (PAC) style hearing instruments throughout Spain.
"The SeboTek PAC style fits with our extensive experience delivering high quality hearing care products," says Miguel Gimeno, managing director of Multiacústica. "The PAC design, with high fidelity sound and a broad fitting range, is a natural complement and expands our ability to deliver hearing systems designed to be visually satisfying, while free from feedback and the effects of occlusion."
Multiacústica's representation in Spain brings the company closer to reaching all of Europe. "Because PAC addresses key consumer needs, objections will be fewer and satisfaction higher," says SeboTek President Jim Feeley.
---
AVX Reportedly Produces Smallest Tantalum Capacitor
Myrtle Beach, SC — A new option for reducing the size of chips in electronic medical devices has been reported by AVX Corp, Myrtle Beach, SC. The company recently developed the industry's first 0402 tantalum chip capacitor, the 0402 TACMicrochip™ Series, capacitors designed to offer the highest volumetric efficiency currently available. Tantalum chip capacitors are ideal for applications that require ultraminiature devices with high capacitance values and low current leakage for battery-powered medical applications such as cardiac pacemakers and hearing aids, according to the company.
According to Bill Millman, technical director for AVX's tantalum products division, the unique construction of the TACMicrochip Series devices eliminates the welded lead frame common in conventional molded tantalum capacitor devices, which dramatically increases the space available for the active tantalum element even as the package itself becomes smaller. "This reduction in the package size enables designers to add higher capacitance value parts to existing circuits; or to use smaller package sizes to further miniaturize their circuits."
Applying semiconductor manufacturing techniques to replace the less efficient lead frame methods enabled AVX to achieve the dramatic reduction in package size, Millman observed. "By depositing capacitor material directly on a tantalum wafer substrate, the devices can be built up in a series of automated process steps, and the resulting wafer can be sliced into individual chips like semiconductor die."