ADA Holds Annual Meeting in Tucson
Tucson, Ariz — The rugged desert environment near Tucson, Ariz, and the Hilton El Conquistador Hotel was the setting of the 2004 Academy of Dispensing Audiologists (ADA) Convention. This year's theme, "Brand Me AuD," entreated private practitioners and entrepreneurs to think big and extend their independent, entrepreneurial characteristics to their profession by supporting autonomy and the AuD degree.

Outgoing ADA President Cynthia Ellison addresses members during the organization's opening ceremonies and awards meeting.
The 4-day meeting, held in mid-October, featured a pre-convention workshop entitled, "Branding the Doctor of Audiology," by the brand strategy and communications firm Parker LePla, an exhibit hall with 70 companies showcasing new products and services, nearly 40 educational sessions, and several "Gabfests" where audiologists shared information on specific subjects. The convention also offered fun events including a Western-style cookout, the annual AFA Golf Tournament, and the ADA Annual Banquet.

Incoming ADA President Craig Johnson says that the profession of audiology is ready to move to the next level of consumer awareness via the AuD.
At this year's Opening Session, ADA President Craig Johnson said that audiologists should take an active role in "bringing the profession to the next level of consumer awareness." He cited several legislative activities that the organization is actively pursuing, including the Medicare Direct Access Bill (HR 2151) and urged members to contact their Congressional leaders to help support this initiative. Johnson also announced that Larry Engelmann, AuD, has been elected ADA's new president-elect. Engelmann lives in Oklahoma City and has run a private practice for 22 years. Lee Micken, AuD, is the new secretary of ADA, and David Berkey, AuD, is the new treasurer.

Larry Engelmann was appointed as the new president-elect of the organization. He will assume the role of president in Fall 2006.
Outgoing President Cynthia Ellison introduced film tributes to Henry C. Hecker and Leo Doerfler, both of whom passed away in 2004. Hecker fled his native Hungary after resisting the Soviet invasion of 1956. He came to the US and quickly earned degrees in molecular biology, physiology, and audiology (he received an AuD degree in 2001 at age 67). He reportedly was the first dispensing audiologist in private practice in the state of Virginia when he established his business, Hearing Evaluation and Noise Protection Associates, in 1974. He also pioneered vertigo and auditory nerve dysfunction evaluations in Virginia, and was active in getting the state to require licensure for audiologists. For his steadfast commitment to audiology and its autonomy from the disciplines of deaf education and speech-language pathology, Hecker was presented with the 2004 Leo Doerfler Award which was established in Doerfler's honor during last year's convention.
| | |
| --- | --- |
| The Academy honored the late Henry C. Hecker who was passionate about the cause of audiology. Accepting the award from Ellison were his wife, Ruth, and son, Erik. | Past President Robert Manning presented a special award to Richard N. Craig, a private practice audiologist and instructor at Ball State University, who has conducted 36 cerumen management workshops since 1990. |
| Three former ADA Presidents shared a smile: James McDonald, David Citron, and Susan Whichard. | Kathy Landau-Goodman presented Alice Holmes with the Audiology Awareness Award for outstanding work at the University of Florida at Gainesville AuD program. |
Doerfler, who died in July, was the founder of ADA, a founding director of the Audiology Foundation of America (AFA), and according to the film tribute was "one of audiology's greatest real-life heroes." Acting on the advice of Raymond Carhart (often called the "Father of Audiology"), Doerfler became the second person to receive a PhD in audiology. He went on to develop the Doerfler-Stewart Test for pseudohypacusis, become president of the American Speech Language Hearing Association (ASHA), and direct one of the first large audiology dispensing offices in the country, the Pittsburgh Eye & Ear Clinic. He was also one of the founding members of the American Academy of Audiology (AAA). (For more information on Doerfler, see Stephen Walsh's tribute in the November 2004 HR, pgs 16-17).

This year's keynote speaker, Lynn Parker of Parker LePla, talked about how branding audiology would benefit the profession.
Ellison also emphasized the need for branding the AuD and the profession of audiology—a major focus of her presidency. She introduced Lynn Parker, a principal of Parker LePla consultants, and one of the early experts in a field now known as "branding theory." Parker says that the ultimate goal of audiologists should be to get consumers to say, "I want to see a doctor of audiology." She says that, "if you don't define yourself, the market will"; audiologists will be branded either by themselves or by ENTs, related disciplines, insurers, etc. "Today's Baby Boomers are tomorrow's customers," says Parker. "To them, 'AuD' sounds like a new form of birth control." She urged audiology as a profession to take control of its own image.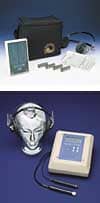 Ventriloquist Gail Wenos and her friend, Ezra D. Peabody, entertained the opening session and encouraged audiologists to see the patient's point of view.
Parker advises that audiologists hone in on defining themselves through their unique services and benefits to consumers, and emphasize their new doctoral status. "Talk about how there is a disconnect between the expectations and the technology of the products. Hearing aids have the ability to improve lives and lifestyles, and that unique services will enhance and help realize [these expectations]. Offer better alternatives so patients can see the right person for specific problems."

Hearing AID was conceived in 2001 as a way for musically inclined hearing care professionals to give the gift of music to benefit individuals with hearing impairment. At this year's ADA meeting, the band ensemble consisted of (l to r) founder Brad Ingrao (HIMSA), RT Campagna (United Hearing Systems), Jim Gahn (Vivatone), Mike Levy (a Tucson professional musician), and Henrik Nielsen (Unitron Hearing). Other recent "band members" and walk-ons have included Charles Berlin, Mike Di Vincenzo, Bob Ghent, Mead Killion, Jay Kirsch, Pat Murphy, Dick Vassella, and Andy Vermiglio. Ingrao's Hear AID Web site (http://bradingrao.com/hearing-aid) points out that the output of the band's PA system does not to exceed 90 dB(A). The band hopes to find a venue at AAA to benefit the National Center for Hearing Assistive Technology.
The Opening Session also featured ventriloquist Gail Wenos and her dummy, Ezra D. Peabody, who entertained attendees with antics involving Jim McDonald, Charlie Stone, Robert Manning, Dave Cieliczka, Susan Parr, and Lee Micken.
Next Year
The 2005 ADA Convention will be held October 26-29 at the Westin Harbor Resort and Spa in Savannah, Ga. For more information, visit the ADA Web site at www.audiologist.org.