Phonak Races for Better Hearing
American Tyler Hamilton, last year's fourth place winner in the Tour de France, will repeat his rendezvous with this prestigious cycling event this year as a member of the Phonak Hearing Systems Team. The cycling team recently received an official invitation to race in this year's Tour de France. The Phonak team is ranked in the top-10 on the world cycling scene, but this is their first invitation to the event. Hamilton, who participated in compiling the talent on this year's team, has his sights set on the number-one Tour de France place this year which will be held July 23-25.

"I knew [the invitiation] would work out this time" says Phonak Board President Andy Rihs. "We built ourselves up in such a way that they couldn't pass us by anymore. We will do everything possible to prepare ourselves for this top event." The race criss-crosses France, ending at the Champs-Elysees in Paris. American Lance Armstong has won the Tour de France title for the last 5 years. w
Hearing Aid Tax Credit Bill Continues to Build Support
Washington, DC — Co-sponsorship of the Hearing Aid Assistance Tax Credit Act (HR3101) has increased to 44 Representatives as a result of cooperative efforts between Representative Jim Ryun (R-KS) and his staff, the Hearing Industries Association (HIA), and a coalition of hearing health care organizations including the American Academy of Audiology (AAA), American Speech Language Hearing Assn (ASHA), Deafness Research Foundation (DRF), International Hearing Society (IHS), Self-Help for Hard of Hearing Persons (SHHH), and AG Bell. Efforts are now underway to increase Senate support with special attention given to Senators on the Special Committees.
HR 3103, sponsored by Congressman Ryun, has built steady support in the US House. Additionally, on February 9, Senator Norm Coleman (R-MN) introduced a companion bill (SB 2055) in the Senate that mirrors the House bill. Both bills provide for a $500 tax credit ($1000 for a binaural fitting) per hearing-impaired citizen ages 55 and above, as well as dependents ages 18 and younger. The tax credit would be available to any qualified citizen once every 5 years. (For more information on the bill, see the Dec HR, p 12 and March HR, p 8.)
HIA has posted sample constituent letters—a letter for hearing care professionals, a letter for adults, and a letter for parents of children who have hearing loss—in support of HR 3103 and S2055 on its website (www.hearing.org) for use by dispensing professionals and their patients. These letters, which were developed by Starkey Laboratories and are also available on the Starkey homepage (www.starkey.com), can be utilized when contacting Representatives and Senators to support the hearing aid tax credit. HIA and the above organizations are encouraging its members to contact the legislators as soon as possible.
---

Jackson Appointed President of GN ReSound US
Bloomington, Minn – Richard Jackson has been named president of GN ReSound US, taking over for Alan Dozier who served as interim-president and now resumes his duties as president of GN ReSound North America and other responsibilities.
For the past 3 years, Jackson has served as the vice president of sales and professional training at GN ReSound, and was reportedly instrumental in the significant increase in GN ReSound's sales revenue and outstanding growth in profitability during 2003. As president, Jackson will continue to drive the company's plan for increased revenue and market share growth in the United States. This will be achieved through the continued launch of new products, GN ReSound's business development support, and the implementation of the other customer focused initiatives, says the company.
Jackson received his BA from the University of Texas and an MBA from the University of California. Prior to joining GN ReSound in January 2001, his career has consisted of 18 years of work in the medical device industry. He held the position of vice president of sales and marketing at Racal, a London based medical device manufacturer, and before that spent 10 years in various sales and marketing roles at Allergan.
---
Wall Street Journal Runs Front-Page Article on OTC Petitions
New York City—A front-page news article in the March 24 Wall Street Journal entitled "The Noisy Debate Over Hearing Aids: Why So Expensive?" written by reporter Ann Zimmerman addresses the Citizen's Petitions filed by Mead Killion, PhD, and Gail Gudmundsen, AuD (for background information on the Citizen's Petitions, see the October 2003, and reasons why the FDA denied the petitions in the March 2004 HR News). The article presents a discussion on the need for hearing care and the wider use of hearing instruments by consumers, industry regulations concerning the dispensing of hearing aids, and the testing that accompanies the distribution of the devices. It also presents several quotes from experts in the hearing care field that focus on the high cost of hearing aids.
Additionally, the lead paragraph of the article offers remarks that Killion and Gudmundsen object to as a mischaracterization of the debate, and they say the article comes off as an indictment of hearing aid pricing, which they did not wish to portray. The article begins: "A set of hearing aids costs about $2,200 on average. Mead Killion thinks that's crazy." Killion and Gudmundsen say the article was disappointing not only because of what it said, but because of what it failed to say: namely, that professional services and the concomitant price for those services are definitely a value. The Hearing Industries Assn (HIA) characterized the article as "extremely negative."
"The first two sentences of the article changed the focus of the subject away from the real problem," says Killion, "which is the lack of readily available low-cost hearing aids for those who can't afford the high-technology full-service hearing aids, to an apparent indictment of the hearing aid industry. That may have been the agenda of the WSJ, but it was dishonest to our statements and beliefs."
"Gail and I debated long and hard about talking to a any newspaper," Killion continues, "but the WSJ has been one of the better papers…We were disappointed that the article missed the most important distinction—one we emphasized every time we were interviewed." Particularly upsetting to Killion and Gudmundsen is the implication that they believe hearing aids and professional services are not worth $2,200 or more. "We have long been champions of amplification and quality hearing care services," says Gudmundsen. "Anyone who has ever attended our seminars or read our articles during the last 20 years knows very well the high value we place on audiological services and hearing aids, as well as the respect that we have for this profession. We're both audiologists who have dedicated our lives to this field. We recognize and understand that different tiers of technology and different levels of pricing exist for advanced hearing instruments. We're not at all critical of the prices charged for these products or services; what we question is if a portion of the population might benefit from a less expensive, non-custom, one-size-fits-most hearing device. We think there is a legitimate argument that such a class of OTC hearing aids could widen the use of amplification products and benefit the consumer. This is at the core of our debate and is the main impetus for the Petitions. However, the argument has nothing to do with the question, 'Are hearing aids overpriced?'; the fact is that there is a need for a range of premium higher-priced products, just as there is a need for a range of lower-priced ones."
In a letter to the editor of WSJ in response to the article (at press time, still unpublished), Killion writes:
Ann Zimmerman's March 24 article "The Noisy Debate Over Hearing Aids: Why So Expensive?" says: "A set of hearing aids costs about $2,200 on average. Mead Killion thinks that's crazy." That statement incompletely represents what I (and Gail Gudmundsen) think. The price is similar to what we ourselves, as audiologists, have charged for hearing aids. It includes testing, follow-up, counseling, and all the important services that go along with a professional fitting. The problem arises when someone can't afford that level of service. What is 'crazy' is that there is presently no readily available low-cost alternative for those to whom cost is even more important than the substantial advantages of professionally-fitted hearing aids.
We don't indict the hearing-aid industry, but call for better alternatives.
Zimmerman, the author of the news item, maintains that this point, indeed, is clearly stated within the article. She says that the article contains information about the value of professional services in a number of places. For example, the article states in its second paragraph: "The [FDA], which regulates the industry, so far has sided mostly with the specialists, who are trained to calibrate and fit devices suited to each patient. If anyone could sell a hearing aid, the FDA says, elderly people might be victimized by shoddy merchandise and fail to get treatment for serious medical conditions." She says the article does not question the value of hearing care services, but rather points out that the pricing structure for these devices may be monolithic, barring or disuading some people from access to amplification.
---
HearUSA Posts Its First-Ever Income from Operation in 2003
West Palm Beach, Fla — HearUSA Inc, owner of 156 HEARx and former Helix dispensing offices, reported that 2003 net revenues rose 23% to $70.5 million from $57.2 million for the 2002 year end. The company says fiscal 2003 income from operations increased to $1.9 million from a loss of $4.5 million a year earlier. Financial results included $1.9 million of non-cash and/or non-recurring charges which resulted from the October and December 2003 financings, costs associated with the Helix integration and the discontinued Canadian operations. HearUSA reported a net loss for 2003 of $1.7 million and a loss of $7.6 million in fiscal 2002.
"Fiscal 2003 was a pivotal year for HearUSA as we fully integrated and rationalized the Helix business, substantially reduced our overall cost structure, and enhanced operations to report our first-ever income from operations," says HearUSA CEO Stephen J. Hansbrough. "In addition, we significantly improved our financial position with a stronger cash balance. The company's negative working capital was reduced from $10.2 million at the end of fiscal 2002 to $2.3 million at the end of fiscal 2003. This amount includes the current portion of the Siemens' financing of $2.9 million which self liquidates provided 80% of the company's hearing aid purchases are made from Siemens." Hansbrough noted that the company has been successful in reducing expenses as a percentage of net revenues in several areas.
"Our acquisition of Helix and the integration of Helix operations into our operating and accounting system, as well as our own internal improvements to traditional core operations and the divestiture of centers in Quebec, have produced a much stronger company," says Chairman Paul A. Brown, MD. "We are now a national hearing care provider—the third largest in the nation—and our HEARx and HEARx West centers are the only preferred provider organization in hearing care accredited by the Joint Committee on Accreditation of Healthcare Organizations (JCAHO). This places us in an especially strong position to win new contracts from major health care providers, such as the recently announced contract with the Veterans Administration."
---
"Teaching Audiology Conference" Slated for June 2005
Pittsburgh, Pa — The University of Pittburgh will host a conference on the topic of teaching audiology next summer (June 17-18, 2005) entitled, "The Art and Science of Teaching Amplification." Invited speakers include Ruth Bentler, PhD, Robyn Cox, PhD, David Hawkins, PhD, Gustav Mueller, PhD, Catherine Palmer, PhD, and Michael Valente, PhD. Dr. Mueller will serve as the program moderator. Break-out sessions will include discussions on clinical and classroom teaching, assessment, undergraduate education concerns, and evidence-based teaching practices. A poster session will provide participants the opportunity to share information.
The conference will be open to all interested in the educational/clinical preparation of audiologists. Persons interested in serving on program committees are invited to contact the program chair, Kris English ([email protected]). More information about registration and submissions for posters will be published this fall, and information will also be available via a new Internet listserv, [email protected] (subscription information can be obtained by contacting English).
---
ATA Awards Research Grant to Salvi
Portland, Ore — The American Tinnitus Association (ATA) announced that Richard Salvi, PhD, from the State University of New York (SUNY) at Buffalo, is the recipient of its Winter 2003 Research Grant. The ATA awards grants for tinnitus-related research twice a year.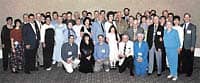 Salvi will receive $166,977 to study neural activity changes in the brains of rats after tinnitus has been introduced. The 2-year study may lead to greater scientific understanding of how certain drugs cause tinnitus, and to better treatments for people who experience drug-induced tinnitus. Ultimately, it may become possible to develop new drugs that avoid causing tinnitus.
Approximately 50 million people in the United States experience tinnitus, a medical condition that causes millions of people to hear noise when no external source is present. Roughly 12 million seek medical help to manage extreme symptoms, such as depression, loss of sleep, and difficulty concentrating. Tinnitus can have a variety of causes, but hearing loss and exposure to loud noise are the most commonly reported trigger events.
Most people who have tinnitus think that the ringing sensation they hear originates in the ear. However, recent human brain-imaging studies conducted by Dr. Salvi and others suggest that tinnitus arises from abnormal neural activity in a part of the auditory cortex.
Normal hearing is believed to result when adequate numbers of neural signals are received and processed. Salvi explains that damage to the inner ear reduces the number of neural signals that reach the auditory cortex for processing. In some cases, the brain compensates for the reduction by over-responding to weak or spontaneous brain signals. He likens it to the static that can be heard on a car radio: "When the station's signal is weak, the static increases as we move farther from the station," says Salvi. "In effect, the radio 'fills in' with static so it can continue to fulfill its mission of receiving and playing sound…We think this is analogous to what happens in people who develop tinnitus," said Salvi.
The American Tinnitus Association grant will allow Dr. Salvi and his SUNY team to study the effect of spontaneous neural activity in the auditory cortex when tinnitus is temporarily induced with aspirin (sodium salicylate). The link between certain drugs and tinnitus can result in the development of either temporary or permanent tinnitus. Alcohol, aspirin, quinine, or other anti-malarial medications frequently result in a temporary tinnitus condition. However, certain cancer treatments (using cytotoxic drugs) and treatment for life-threatening infections (with aminoglycoside antibiotics) often cause permanent tinnitus. Currently, there is no cure for tinnitus. w
---
Letters

Dear Editor:

A recent HR article ("Auditory Neuropathy and Configured Hearing Loss: The Case for Two-Stage Screening," February 2004 HR, pgs. 28-32, 78) by William F. Dolphin, PhD, correctly argues that one-stage newborn hearing screening protocols have certain limitations: screening by otoacoustic emissions (OAE) alone will miss almost all cases of auditory neuropathy, and screening by auditory brainstem response (ABR) alone will miss many cases of configured hearing loss. However, the NIH two-step protocol that he advocates does not solve these problems.

Dolphin states, "This Two-Stage Protocol identifies the majority of infants with hearing loss, including those with configured hearing loss, as well as those rare cases with auditory neuropathy" (my italics). This is clearly not the case, as can be seen by examining the protocol flow-chart on page 32 of the article. Since the protocol discharges those babies who pass the initial OAE screen, cases of auditory neuropathy will be missed, just as they are in an OAE-only protocol. Those infants with configured hearing loss, who may fail the more frequency-specific initial OAE screen, are then referred for an automated ABR screen. However, at least some of these babies will pass this second stage (since a non-frequency-specific click stimulus is used), and according to the protocol will then be discharged.

While this protocol may improve the sensitivity and specificity of the newborn screening process, it does no better than a one-stage protocol at picking up cases of auditory neuropathy or configured hearing loss. It is only by using both screening methods on all babies (as Dr. Dolphin advocates for high-risk infants), and then performing a full diagnostic evaluation on every baby that fails either type of test, that cases of both auditory neuropathy and configured hearing loss will be identified.

Andrew Resnick, MS
Columbia Presbyterian Eastside
New York City
---
Send news, calendar, product, personnel, and other announcements to:

Arati Murti, associate editor


Hearing Review
6701 Center Drive West, Suite 450
Los Angeles, CA 90045
Tel: 310-642-4400 ext 231
Email:

[email protected]