The Starkey Hearing Innovation Expo, held in Las Vegas in early January, attracted about 3,000 attendees—possibly the largest multidisciplinary gathering of dispensing practice owners in industry history—to a 3-day conference focusing on innovation in three central areas:
Starkey founder Bill Austin introduced President Bill Clinton who spoke about his work in trying to find innovative solutions to world problems like disease and famine by harnessing the power of private enterprise, governments, and nongovernmental organizations. (Photo courtesy of Paul Willoughby).
Hearing science and research;
Patient engagement; and
Entrepreneurialism.
Attendees were predominantly experienced dispensing business owners and co-owners who used products from and/or were associated with Starkey, Audibel, MicroTech, and NuEar, hailing from 27 different countries, with many coming from as far away as India, China, Korea, and South Africa.
At the opening of the Expo, Starkey Technologies President Jerry Ruzicka promised that the meeting "will be like nothing you've ever been to before," and set the tone for the conference's overriding point and challenge: innovation and its successful implementation in the use of technology, the patient journey, and business management are what will ultimately differentiate both dispensing practices and hearing aid manufacturers.
"We have to be the Apple [Computer] of our industry," said Ruzicka, and the Apple/Starkey/dispenser comparison was a frequent example used by speakers throughout the Expo to drive home the point that companies should create a corporate culture that relies on talented staff and innovative ideas, as well as a team-oriented buy-in to extraordinary patient care.
Starkey Senior Vice President Brandon Sawalich noted that "our art and our experience is the value that we bring to the patient, because it is about the human touch…and what you need to be asking yourself over the next 3 days is 'How am I branding myself in the market?' It's not about the brand on the hearing aid, because you're the brand….What is your personalized brand in your office [and] what is the patient experience that you're providing?"
Starkey Technologies VP of Marketing Chris McCormick, President Jerry Ruzicka, and Senior VP Brandon Sawalich.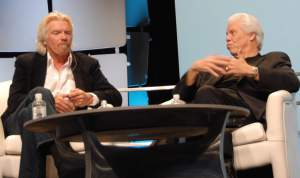 Sir Richard Branson and Austin offered a candid discussion about what motivates them in their businesses, their considerable worldwide charitable efforts, and their lives. (Photo courtesy of Paul Willoughby).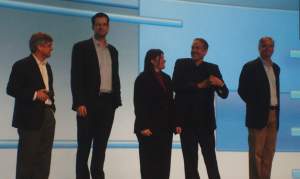 Starkey Technologies research and product development leaders who presented at the Expo included (l to r) Thomas Burns, PhD; Drew Dundas, PhD; Suzie Valentine, PhD; David Fabry, PhD; and Brent Edwards, PhD.
Life isn't a dress rehearsal. On a deeper level, the Expo frequently touched on a more philosophical theme, reminding attendees to keep their fundamental goals and objectives clearly before them by leading a purpose-driven and rewarding life. This theme—notably conveyed by Starkey founder Bill Austin, Virgin Airlines founder Sir Richard Branson, and President Bill Clinton—reminded participants of the unique opportunities afforded to hearing care professionals in transforming people's lives in their communities and the world via their ability to provide people—near and far—with better hearing.
"There are a lot of people in the world without shoes who are quite happy [because they have love in their lives]," said Austin in response to a question about what he and his wife, Tani Austin, see during their travels in providing hearing aids on their global missions for the Starkey Hearing Foundation. "But the most terrible thing you see are people who have no one who cares about them. You have to be cared about before you can care about anyone else. I think one of the most important things [dispensing professionals] do is give people hope and dignity by providing hearing care. Care leads to dignity, and dignity leads to hope, and hope is what drives life and makes people want to move forward." In that sense, Austin says, the interpersonal nature of hearing health care is not one that lends itself well to mass retailing or commoditization. At its best, he says, the hearing care profession is powered by a purpose-driven, deep commitment to helping people and making the world "better today than yesterday, and even better tomorrow than today."
Innovation in research and science. Starkey VP of Research Brent Edwards, PhD, made the case for why creativity and value-driven product/service innovation is essential for any business. Edwards showed examples of why it is crucial for high-tech companies, like Starkey, to manage innovation and creativity within limits that produce marketable and successful products. He hinted at several new innovations that his team is currently working on, including improvements in directionality, music listening, human/computer interactions, and connected health.
David Fabry, PhD, managing director of sales, showcased some "outside the box" ideas about how dispensing professionals may one day be measuring factors, such as residual hearing, acceptable noise levels, localization, and even cognitive states, using real-time responses from patient-driven software that looks more like a video game than audiometric equipment.
Similarly, the company offered small-group tours of a "Concept Office," a full-scale model of a futuristic dispensing office. The office included the new Lantos ear-scanning technology that eliminates the need for impression materials, a Reality Room for fitting and demonstrating new hearing aids, a Connect Hear Room for conducting teleaudiology, an Aural Rehab room for post-fitting, and a Testimonial Room to facilitate digital marketing through the use of patient reactions to your fittings and services.
Innovation in patient care and business. Several unique seminars were offered during the daily general sessions, including a perspective on hiring and placing people in a position to succeed by Ruzicka; how our aging Baby Boomer population will change society by Mary Furlong, EdD; and how the Internet and more focused marketing approaches are needed in today's multimedia landscape by Chris McCormick and Mike Fryar.
Something for everyone. The 3-day Expo offered more than 45 courses with topics ranging from business indicators and PR to technology and philanthropy. Keynote speakers included Sir Richard Branson; President Bill Clinton; Jay Elliot, the author of The Steve Jobs Way: Leadership for a New Generation; entrepreneur and The Apprentice star Bill Rancic; and body language expert Tonya Reiman. Additionally, Grammy award-winning group Rascal Flatts closed the event—including a surprise on-stage cameo by Ruzicka.
"We were energized and inspired by the engagement, interest, and excitement at the Hearing Innovation Expo," said Sawalich in a press statement. "This event was designed to provide content and innovative ideas that hearing care professionals could use immediately, and it achieved that goal. The comments we received were overwhelmingly positive throughout the event regarding the content, the layout, and the production."
HR thanks Paul Willoughby for his assistance during the Expo, as well as for the use of his photos in this article. —KES