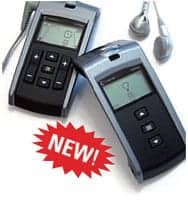 Wireless Communication System
Comfort Audio, Culver City, Calif, offers the Comfort Contego as a wireless communication system designed to improve and enhance the quality of sound. Comfort Contego's digital radio system provides high-quality sound over secure coded channels. Both the transmitter and receiver have built-in zoom microphones that are user-adjustable for maximum customization of sound. The microphones can be set for omni-directional or directional based on conditions, and volume level can be remotely adjusted. Comfort Contego is small and light, and can be used almost anywhere. The easy-to-read LCD menu provides a clear system for settings and adjustments, ensuring quick setup.
(310) 945-3048
www.comfortaudio.us
---

Hearing Instrument for the Cost Conscious
Oticon Inc, Somerset, NJ, introduces Vigo Pro and Vigo families of hearing instruments, priced to enable cost-conscious clients to benefit from state-of-the art hearing technology and based on Oticon's RISE platform. Vigo Pro's DecisionMaker 2 controls five features: Multiband Adaptive Directionality, TriState Noise Management with Voicefinder, Automatic Adaption Manager, VC Learning, and Dynamic Feedback Cancellation 2. Vigo Pro's TriState Noise Management system uses "VoiceFinder" to detect and prioritize speech, and automatically reduces unwanted noise without reducing the volume of speech. Vigo Pro features automatic VC Learning that "remembers" the user's volume preferences in different sound environments and automatically adjusts to specific situations.
(800) 526-3921
www.oticonusa.com
---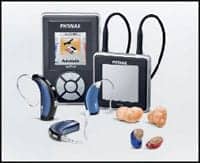 New Hearing Instrument Line
Phonak, Warrenville, Ill, introduces the Exélia micro, featuring CORE technology. Exélia's hearing performance is based on SoundFlow, designed to seamlessly create an infinite number of situation-specific programs, and backed by VoiceZoom, an adaptive, multichannel directional system, and WhistleBlock feedback control. Optional command center provides control of hearing instrument functions and network status information. This includes ZoomControl, which enables users to control hearing focus. Onboard controls are combined with QuickSync, designed to offer balanced, synchronized hearing. Compatible with iCom wireless communication interface, and iCube cable-free programming device.
(800) 777-7333
www.exelia.phonak.com
---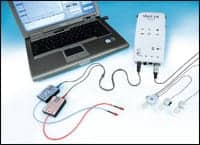 ABR System
Vivosonic, Toronto, offers Integrity, designed to solve the problems commonly encountered by audiologists with ABRs. The patented Amplitrode technology, wireless communications, and patented Kalman-weighted signal processing have been engineered to eliminate the effects of electromagnetic interferences in virtually any clinical environment, including NICU and OR, and reduce muscle artifacts in nonsedated patients. Created to provide clear, accurate, high-definition waveforms and latency measures that result in an improved diagnostic value of ABR, clinical efficiency, and patient care in all ages.
(877) 255-7685
www.vivosonic.com
---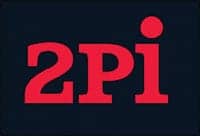 Algorithm Relieves Transient Impulsive Noise
Two Pi, Vienna, Austria, introduces Acoustic Comfort Optimization (ACO) to its algorithm portfolio for hearing aid platforms. ACO is designed to relieve transient impulsive noise disturbances without negatively influencing speech intelligibility—accurately identifying annoying transient noises and separating them from transients in speech by performing continuous analysis of signal behavior. The new algorithm expands Two Pi's hearing-aid algorithm suite, which includes: SWIFT, the dynamic range compression scheme providing only 2.5 ms processing delay; FORMANT BOOSTER, the speech enhancement system promoting a full-bodied sound, as well as superior algorithms for adaptive beamforming, noise cancellation, and feedback cancellation. The complete bundle is available for the Ezairo 5900 platform from ON Semiconductor.
---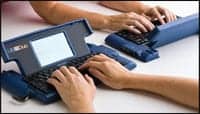 Device Helps Bridge Communication Gap
Harris Communications, Eden Prairie, Minn, now offers the UbiDuo, a type-to-text communication device that allows deaf/hard-of-hearing people and those with communication barriers to communicate with anyone, face to face, without a third party. Text appears simultaneously on a split screen on each UbiDuo, in real time. Instant-on functionality means it is easy to use, and at a compact 6 pounds, it is completely portable.
(800) 582-8569
www.harriscomm.com