Audiology to Extend a Musicians' Career | October 2018 Hearing Review
This issue of The Hearing Review is dedicated to helping musicians, and those who like to listen to music, extend their playing careers and listening enjoyment. After almost 40 years of working with musicians and those in the performing arts, it occurred to me that "assessment" should be secondary to "treatment." Of course these are medical model terms—moving to a rehabilitative model might be a more appropriate description.
What can we do in the hearing healthcare field to ensure that music is enjoyed (occupationally or otherwise) as long as possible? In the July 2018 Hearing Review (p 8), I wrote about a young woman who was studying voice at a local college and considered herself to be a soprano. She was having difficulty passing her "ear training" classes, a requirement for all music programs. This involves identifying musical intervals, such as thirds or fifths on the piano keyboard. She had cochlear dead regions down to 1500 Hz.
A quick and simple solution for her turned out to be having the musical intervals played in a lower octave—one where she had better cochlear function—in her case, the octave below middle C. This proved to be much easier, and after some training this music student was better able to identify the intervals even up to an octave or two above middle C. She received a score of 84%; the best score she previously could obtain for higher octave intervals was around 20%.  
Much of the "audiology intervention" was to contact the school and explain the situation. It can be difficult to explain cochlear dead regions to a school administrator, but it's amazing how flexible educational institutions can be if there is clear and consistent information provided.
This student also is investigating the possibility with her vocal coach of becoming an alto or alto-soprano, effectively bringing her singing range down a fraction of an octave. This is analogous to a hard-of-hearing violinist deciding to play the slightly larger viola which has more of its sound energy in a lower (hopefully healthier) cochlear region.
This form of "treatment" is one where I am getting the greatest clinical and professional satisfaction. There is nothing wrong with measuring the sound levels in a band or an orchestra, but this should be only the beginning, and not the focus, of our professional involvement.
We now have technologies that were not as readily available in the past, such as our smartphone's ability to provide frequency equalization and remote reception via Bluetooth. Hard-of-hearing musicians can, within limits, adjust gain in the lower, mid, or higher frequency regions quickly on their smartphones. Not only is this useful for monitoring and communicating within a band, but it can be used to improve the quality of amplified music—slight mid-range boosts and high-frequency cuts may make the music sound warmer. 
Other than ensuring that the maximum output (OSPL90) is set properly, I would fully support providing musicians with the capability to further adjust elements of their personal amplification. The following articles summarize some of the solutions many hard-of-hearing musicians have successfully used to continue playing music. The first four articles end with "Recommendations for a 'music package'" which are essentially "wish lists" of specific things that a hearing aid manufacturer might one day offer musicians. For example:
Charles Mokotoff calls for a smartphone app that has a 5- or even 10-band equalizer to modify music output. 
Audiologist Larry Revit calls for more sharply tuned filters and a greater number of bands that the musician can self-adjust.
Composer, former record producer, and hearing loss advocate and vice-chair of the Board of Trustees at the Hearing Loss Association of America (HLAA) Richard Einhorn calls for a "hearing aid" module for his Digital Audio Workstation (DAW) placed on the final output stage where 'hearing loss compensation' currently resides. In this way he could enter his audiogram, and the mix could then be heard with sound optimized for the user's hearing. An advanced mode of the module, similar to audiologist's hearing aid fitting software, might enable hard-of-hearing users to tweak the settings. He also goes on to call for high-quality sound reproduction on his hearing aids for wireless music and audio streaming, including a flat frequency response similar to good consumer earphones.
Rick Ledbetter, a professional musician and composer, describes how to use a Bluetooth streaming device in music performance, recording, and home situations. He calls for a package of cable connectors that will facilitate connecting the mixer and computer to the hearing aids' streamer.  
This special edition of Hearing Review also provides some good guidance and new ideas:
Stu Nunnery, a writer, composer, singer, and recording artist, describes how he gradually re-learned to hear again. In my opinion, Stu is the poster child (actually he's a bit older) for auditory training and the many benefits for music and speech. And his new CD can be ordered from: http://store.cdbaby.com/cd/stununnery3.
Since its inception in 2001, the non-profit Association of Adult Musicians with Hearing Loss (MusiciansWithHearingLoss.org) has been chaired by Wendy Cheng. In 2016, the AAMHL published Making Music with a Hearing Loss: Strategies and Stories where many hard-of-hearing musicians shared their strategies to better hear and play music. In her article, Wendy touches on many things, including alternative requirements for hard-of-hearing music students that perhaps should be assessed in the time/rhythm-domain rather than in the frequency domain exclusively.  
Addressing these issues is not new. The online version of this introduction contains links to some earlier Hearing Review articles, several by these current authors, on strategies to extend a musician's career. Many of these are from a 2014 edition on music and hearing loss. While this doesn't seem like that long ago, we are living in exciting and quickly changing times!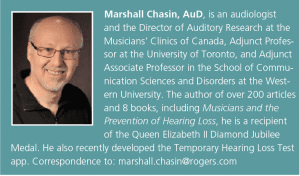 Original citation for this article: Chasin M. Using audiology to extend a musician's career. Hearing Review. 2018;25(10):10.