TOP NEWS and HEADLINES in May
Hearing Aid Sales in First Quarter Increase by 1%
Better Hearing and Speech Month Promoted on NPR by ASHA
"Dancing" Hair Cells Are Key to Humans' Acute Hearing
Zebrafish May Help Solve Ringing In Veterans' Ears
Brent Edwards Promoted to Vice President of Research at Starkey
Comfort Audio Establishes US Headquarters in Midwest
US Report: Patients Prefer Polite Physicians
High Risk of Falling for Stroke Victims
Sonic Chairman of Board Raguskus Cedes Duties to Westover
Direct Access Bill Encounters Resistance from Medical Societies
Bryan Adams Unveils "Hear the World Ambassadors" Photo Exhibit
Study Captures Brain's Activity Processing Speech
To access any article on this page, go to HR's Web site and click on the "HR Online" item in the online Table of Contents or search by keyword.
Lyric deep-fit disposable can now be fit by trained dispensing professionals, in addition to ENTs. The InSound Medical Lyric deep-fitting disposable hearing aid has received from the Food and Drug Administration (FDA) an extension of its indication for use statement so that appropriately trained audiologists and dispensing professionals, in addition to ENT physicians, can place the new hearing device in a patient's ear canal. Previously, only ENTs were allowed to place the device. Although the new indication opens the door to audiologists' and dispensing professionals' dispensing of the device without medical supervision, InSound Medical's VP of Marketing Susan Whichard notes that the company's strategy is to work first with those audiologists and dispensing professionals who maintain close professional relationships with ENTs. She says that the company intends to transition changes in the placement of the device in appropriate stages. For example, a dispensing professional might decide to work with an ENT when performing new Lyric fittings, then progress to doing the majority of the replacement fittings and/or new fittings him/herself. See May 28, 2008 HR The Insider.
OPM directive inclusive of all dispensing professionals. Following the guidance issued by the US Government's Office of Personnel Management (OPM) to all Federal Employees Health Benefits Program (FEHBP) vendors that a hearing aid benefit would be a highly desirable enhancement, OPM issued their technical guidance document for 2009 proposals. The document reiterates that OPM "strongly encourages" enhancement of hearing benefits and, importantly, stipulates that "licensed and qualified hearing health care providers" should be included. The statement reflects ongoing communication and meetings with the International Hearing Society (IHS) and allied organizations to ensure that all licensed providers were included in the program. See May 8, 2008 HR The Insider.

PCO to Become Salus University in July

ELKINS PARK,—Pa—Pennsylvania College of Optometry (PCO) President Thomas L. Lewis, OD, PhD, announced that on July 1 PCO will become Salus University, officially marking the school's transition from college to university.

(L-R) Ms Jo Surpin, chair of the board of trustees, Pennsylvania College of Optometry (PCO); Thomas L. Lewis, OD, PhD, president of PCO; A. Michael Iatesta, OD, former Chair of the PCO Board, emeritus member of the Board; Donald M. Gleklin, former Chair of the PCO Board, emeritus member of the Board; Carl A. Polsky, former Chair of the PCO Board and present Board Member.

The college has broadened its focus over the last 25 years to include other disciplines, and currently offers seven graduate degrees and two professional degrees. In addition to the optometry curriculum, PCO comprises a school of audiology, four programs in graduate studies in vision impairment, and a physician assistant program.

"Salus," a Latin word for health and well-being, was unanimously adopted by the Board of Trustees as an expression of the institution's dedication to the preservation of the health and well-being of the communities its graduates serve. The college created AuDonline, a doctor of audiology distance education program designed specifically for licensed, practicing audiologists. The establishment of the residential 4- year doctor of audiology program in 2003 at the PCO School of Audiology emphasized a biomedical curriculum with early experiential learning.

Scientists find building blocks of vestibular system. A research team led by Doris Wu, PhD, of the National Institute on Deafness and Other Communication Disorders (NIDCD) recently discovered that a gene encoding a particular growth factor protein is essential to the formation of the semicircular canals and the cristae. Wu and colleagues' earlier research also identified other genes involved in the well-choreographed cascade of molecular events that form the inner ear. See May 28, 2008 HR The Insider.
Occupational classification for audiologists expected to change. The Standard Occupational Classification Policy Committee (SOCPC) has proposed revision to the manual reflecting the American Academy of Audiology's (AAA) recommendation. In the proposed 2010 SOC Manual, audiologists will now be categorized as 29-1170 under the same major group, Healthcare Practitioners and Technical Occupations (29-0000), and minor group, Health Diagnosing and Treating Practitioners (29-1000), but will now have a distinct broad occupation category Audiologist (17) separate from the Therapist category (12). See May 28, 2008 HR The Insider.
Colorado mandates hearing insurance coverage for minors. Colorado's General  Assembly passed a full coverage hearing aid insurance mandate. The bill (CO SB 057), if signed by Governor Bill Ritter, calls for health insurance providers to cover the hearing aid needs of minors under the age of 18. It would provide coverage subject to "the same annual deductible or co-payments established for all other benefits." If signed, the law will take effect January 1, 2009. See May 28, 2008 HR The Insider.
CMV detection: One more reason for UNHS. The results of a new study indicate that 6% of newborns with confirmed hearing impairment have congenital cytomegalovirus (CMV) infection. In most of these cases, the infection was only picked up after an abnormal hearing screening result. See May 28, 2008 HR The Insider.
HIA shoots it out with legislators. The Hearing Industries Association (HIA) participated for the first time in the bipartisan Congressional Sportsmen's Caucus' annual "Shoot Out" in Glenn Dale, Md, on May 13-14. The event featured a competition between Democratic and Republican members of the House of Representatives in trap, skeet, and sporting clay contests. See May 22, 2008 HR The Insider.
Secondhand smoke linked to hearing loss. An Australian study has found a strong link between childhood ear infections and exposure to tobacco smoke. See May 28, 2008 HR The Insider.
Early-onset otitis media impairs brainstem and cortical auditory processing. Otitis media (OM) in the first year of life can impair brainstem and cortical auditory processing for years after the initial infection, according to a report in the April 2 issue of Behavioral and Brain Functions. In the study, the mean central conduction time was significantly increased and the mean amplitude of wave I and III of the click-evoked ABR was decreased in 3-year-old children who had OM during their first year of life, the authors report. These impairments were no longer present in 4-year-old children who had early onset OM. See May 8, 2008 HR The Insider.
Sonova reports record fiscal year. Sonova Holding AG (previously Phonak Holding AG) reported record sales of $1.16 billion (1.2 billion CHF), according to the company. Sales increases of 12.3%—with 11.1% organic growth, 1.7% from acquisitions, and -0.5% currency effect—significantly exceeded hearing instrument market growth, with some 59% of hearing system sales generated from products launched less than 2 years ago. See May 22, 2008 HR The Insider.
Hearing Health Coalition meets with Surgeon General. Brenda Battat, executive director of the Hearing Loss Association of America (HLAA), arranged a meeting with the US Surgeon General, Rear Admiral Steven Galson, and Vice Surgeon General, Rear Admiral Robert Williams, to discuss the importance of hearing health and to urge the Surgeon General to focus attention on hearing loss prevention and treatment issues. The group urged the Surgeon General to expand a health status survey of people who use sign language to include people with hearing loss, and focus on health literacy challenges for people with communication disorders; it discussed the financial barriers to treatment and emphasized the importance of assisting children with hearing loss as soon as possible. See May 22, 2008 HR The Insider.
Mixed results for late-talking toddlers. New research findings from what is reportedly the world's largest study on language emergence have revealed that 1 in 4 late-talking toddlers continue to have language problems by age 7. "While a late start doesn't necessarily predict on-going language problems, most school-aged children with impaired language were late talkers," says the study's chief investigator Mabel Rice. See May 22, 2008 HR The Insider.
---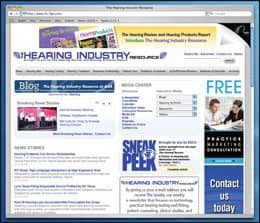 Get Your Weekly Edition of THE INSIDER
Every week The Hearing Review sends out THE INSIDER, a weekly FREE e-newsletter devoted to the top hearing-related news, research, product introductions, fitting topics, and marketing research stories that are influencing your business or practice, as well as the industry at large. [register]Sign up for your free subscription[/register].
Read the May/June issue of
Hearing

Products

Report
Visit www.hr-hpr.com for the latest news headlines:
In with the New at AAA! The AudiologyNOW! convention is to hearing care what the Detroit Auto Show is to the auto world—the main showplace for new products and services.
To Protect & Serve. Hearing conservation research and technology, as well as current hearing-related issues and the use of hearing protection devices by US Armed Forces.
Please visit our Web site at www.hr-hpr.com.