AAA Goes to Washington
Washington, DC — The world's largest gathering of audiologists convened in Washington, DC for the 17th annual American Academy of Audiology (AAA) Convention on March 30-April 2. This year's theme, "Vote Audiology," reflected the Academy's desire to have the Hearing Health Accessibility Act (HR 415/S277) passed and to advance several other legislative initiatives. In addition to over 30 feature sessions and more than a hundred instructional and special educational seminars, the event offered a convention floor with nearly 180 exhibitors.

AAA President Richard Gans and Incoming-President Gail Whitelaw (who will assume the presidency July 1) share a moment prior to the AAA Academy Awards Reception. In his address to the general assembly, Gans emphasized the main initiatives during his tenure as president: establishing the AuD as the credential for clinical competency; the promulgation of accreditation standards by an independent body; ethics and model practice guidelines; reimbursement issues; state and federal legislation; and direct access to audiologists by Medicare patients.
Leaders Highlight Ongoing Initiatives During General Session
During the Academy's General Assembly, which was attended by an estimated 2,500 members, AAA President Richard Gans revisited the key initiatives that have been pursued during his presidency, noting "six guideposts" that he had cited in his speech during last year's convention. These guideposts include the continued move toward professional autonomy, the AuD as the single-designator degree for clinical competency, a renewed emphasis on ethics, reimbursement issues, state licensing developments, and direct access to hearing care by Medicare recipients.

Sen Tom Harkin (D-IA, pictured with Gans), a powerful voice in Washington and a lifelong advocate for the rights of disabled people, provided the keynote address at the General Assembly.
One large success of the Academy in recent years is its members' general acceptance of the Doctorate in Audiology (AuD) degree. "The AuD is well established as the single designator degree," says Gans. "It is not an experiment; it is not a fad; it is the future. Doctors of Audiology are becoming recognized as the integral providers of hearing and balance services. The AuD is becoming the standard by which clinical competency is determined."

AAA Executive Director Laura Fleming Doyle noted that the Academy has grown in membership from 6,898 audiologists in 1999 to 9,736 in 2004.
However, the integrity of the AuD needs to be protected, says Gans, and the Academy is resolute in its position that the AuD degree was meant to be a 4-year first professional degree. Standards of excellence also need to be addressed in programs throughout the nation. "We cannot protect the integrity of the AuD degree without an independent AuD university accreditation body free from subordination or influence of another profession," says Gans. The new Accreditation Commission for Audiology Education (ACAE)—which had an exhibit on the convention floor and is funded by AAA, the Academy of Dispensing Audiologists (ADA), and the Audiology Foundation of America (AFA)—has been created to set standards of excellence for doctoral-level AuD programs and to establish a meaningful praxis examination. The ACAE has also developed a Web-based Computerized Accreditation Program (CAP) which is designed to provide interactive self-study for AuD program administrators, the ability for these programs to retrieve important national data, and to confidentially see how they fare in particular areas when compared to other institutions throughout the country.

Paul Pessis, AuD, (pictured with AAA Incoming President Gail Whitelaw) was installed as the new president-elect of AAA. Pessis has been involved in private practice for nearly 30 years and runs two practices in the Chicago area.
The Academy also needs to continue to develop opportunities for those wishing to pursue research in hearing and vestibular sciences, says Gans. "We need active PhD programs," he stated. "One hallmark of any established doctoral profession is its ability to generate research."
The AAA's leadership believes that "times are changing," and new ethical guidelines have been created by the Academy and ADA for clinicians and researchers in response to new challenges and a need for greater professionalism in hearing health care. "Our Ethical Practices Board has done a superlative job in educating members about these changes as we all learn how to adapt," says Gans. "The Academy has worked cooperatively with the Hearing Industries Association [that has] also developed model guidelines which also reflect the changing times. Together the profession and industry must recognize that a doctoring profession reimbursed by government and third-party payers must adhere to a higher standard."
| | |
| --- | --- |
| Robyn Cox, PhD, director of the Hearing Aid Research Lab (HARL) at the Univ of Memphis, was presented with the Jerger Career Award for Research in Audiology by David Hawkins, PhD, of the Mayo Clinic-Jacksonville, and Catherine Palmer, PhD, of the Univ of Pittsburgh, the host of the awards ceremony. | The AAA Career Award in Hearing was presented to Lucille Beck, PhD, a founding member of the Academy (and its fifth president) who serves as the national director and chief of the VA Medical Center audiology division. Presenting her award was researcher and educator Jerry Northern, PhD. |
| Gilbert Herer, PhD, of the Children's National Health Center received this year's Humanitarian Award for his work in the Healthy Hearing program, which has screened more than 10,000 special needs athletes in 23 states and 22 countries. Presenting his award was Theodore Glattke, PhD, of the Univ of Arizona. | For her contributions in the training and education of audiology students, Rochelle Cherry, EdD, of Brooklyn College was presented with the AAA Clinical Educator Award. Cherry was described as the quintessential teacher of aural rehabilitation by presenter Pamela Geiger, MS. |
Gans also addressed AAA's involvement in reimbursement, coding, and state licensure activities. The Academy has worked with the Centers for Medicare and Medicaid, ASHA, and Medicare state intermediaries on issues of reimbursement, and opened dialogues on issues related to automated tests, as well as other tests that may be conducted by "untrained or unqualified" individuals.
Regarding state legislation, Gans says there is now state licensure in 48 states with progress being made in the remaining two: "Right now, there are over two dozen states where state licensure is ready to open. This is critical for several reasons. First, we must ensure that our state license language accurately reflects our education and competencies to allow us a complete scope of practice. In too many states, because of outdated language, we simply do not have the scope that our education and training deserves. Second, there are still states that require audiologists to hold two licenses, one for audiology and one for dispensing. This is not right. We must continue to work for a single state license in those states."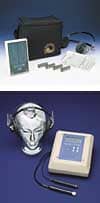 The AAA Professional Achievement Award was presented to Dianne Meyer, PhD, chair of the Dept of Communication Disorders and Science at Rush Univ Medical Center, for her work in establishing the first AuD program in Illinois and drawing together excellent resources for the groundbreaking program.
According to Gans, there is no issue as critically important to the profession as direct access and the Hearing Health Accessibility Act. By the end of the 108th Congress there were over 50 co-sponsors of the bill in the House of Representatives. "Now, with the 109th Congress, we must be tireless in our efforts to enact this simple change in the Social Security Act which will allow Medicare patients the option to seek audiological care from an audiologist or a physician." Gans says that legislative successes in the last session came from member support via contacting their members of Congress and especially monetary contributions to the Academy's Political Action Committee (PAC) which raised over $20,000 during last year's convention. Gans says this money gave AAA the start in gaining access to key members of Congress. Going forward, he says, the PAC's goal is to raise $100,000 each year of the two-year session of Congress. "You hold the destiny of the profession in your own hands," Gans told the membership. "You cannot blame another association. You cannot blame another profession. Only you can do this; it's all up to you [to contribute to the PAC]."
Likewise, AAA Executive Director Laura Fleming Doyle and Incoming-President Gail Whitelaw emphasized the Academy's desire for direct access to audiology services by Medicare patients. They said that, on the day before the convention (March 30), 80 audiology leaders from 38 states descended on Capitol Hill and visited over 200 Congressional members and their staffs to voice their support for direct access.
Doyle also noted that the Ethical Practices Board, under the direction of Teri Hamill, has produced a new textbook entitled, Ethics in Audiology: Guidelines for Ethical Conduct in Clinical, Educational, and Research Settings, that is now available to the field.
Sen Harkin and Carville & Matalin Provide Views of Washington
The keynote address at the AAA General Assembly was provided by Sen Tom Harkin (D-IA), a long-time leader for improving health care and the rights of those people with disabilities. As co-chair of the Senate Rural Health Caucus, Harkin has successfully pushed legislation to bring health professionals to small towns and rural areas, and as ranking Democrat on the Senate panel that funds most health programs, he has guided efforts to focus more on prevention and early intervention—a major message of his speech. He also co-authored the 1990 Americans with Disabilities Act and has more recently been the Senate co-chair of the Congressional Hearing Health Caucus. "[Due to its name] some people may think that it is ironic that Congress has such a caucus," says Harkin. "But you can take it from me, most members of Congress don't have a hearing problem; they have a listening problem."

Husband and wife team Mary Matalin and James Carville provided a humorous, insiders' view of Washington politics.
Disability rights advocacy. Harkin spoke emotionally of his own personal experiences with hearing loss and how he has worn hearing aids for several years. Not only does he have a hearing loss from his days when flying single-engine Navy jet fighters, but his brother, Frank, lost his hearing to spinal meningitis at an early age and was sent "far away to a school for the deaf and dumb," as it was called in those days. Frank, a bright child who insisted that "I may be deaf but I'm not dumb," was told he could choose from only one of three careers: baker, cobbler, or printer, and he was also told that he could not get a driver's license. "Deafness is a kind of invisible disability," says Harkin. "How many times when I was with my brother did it occur to me that the people talking were ignoring him, or believing that [Frank] was being brusque, or upon finding out that he couldn't hear, would ignore him completely and only talk to me—as if he wasn't there…My experiences with Frank inspired my legislative activism in disability rights and also in [supporting] the field of biomedical research." He said that witnessing his brother's struggles led to his involvement in establishing the Americans with Disabilities Act so that people with disabilities "would not continue to be treated as second-class citizens."
Frank's hearing loss also prompted the Senator to establish legislation requiring television manufacturers to provide the decoder chips that allow closed-captioning in sets larger than 13 inches. Although this legislation was opposed by much of the electronics industry because they said it would be prohibitively expensive to employ the chips, the cost of implementing the chips in each of today's televisions is less than $1, according to the Senator. Additionally, the 1996 Telecommunications Act has proved to be a boon to the hard-of-hearing community—as well as sports fans in noisy bars—requiring that all television programming be captioned by 2006 (Harkin says this deadline will not be met due to a lack of real-time caption writers, but great progress has been made).
In 1988, when Harkin was chair of the Appropriations Subcommittee for the National Institutes of Health (NIH), he and Arlen Specter (R-Pa) authored a bill to found the National Institute on Deafness and Other Communication Disorders (NIDCD). "There were bits and pieces of research on deafness and hearing disorders being done, but they were spread all over, and a number of people thought it would be good to pull it together under one institute…We went ahead and doubled the funding for the NIH from 1998-2003." He lauded James Battey, PhD, and colleagues at the NIDCD for doing extraordinary work in areas ranging from molecular genetics to assistive technology for the deaf and hard of hearing. He noted that these researchers have recently made great strides in the creation of vaccines for otitis media, gene therapy, and research on the regulation of fluid within the inner ear.
"Of course these wonderful discoveries and all your expertise in audiology don't count for much if people are denied access to your services. That's why, as [Gans] said, I'm cosponsoring the Hearing Health Accessibility Act in the 109th Congress. We need to give Medicare beneficiaries the option of going directly to a qualified audiologist for hearing and balance diagnostic tests. [The idea is] not so strange; Medicare already allows direct access for a whole range of non-physician practitioners including optometrists, chiropractors, clinical psychologists…It is just plain common sense [that people be allowed to] see an audiologist, and makes really good sense in rural states like Iowa…We have waited long enough. We need to pass the Hearing Health Accessibility Act in this Congress."
UNHS a victim of 2006 budget cuts? Although Harkin's speech was largely apolitical, he was pointed regarding the 2006 budget's erasing of funding for universal newborn hearing screening (UNHS)—especially in the context of the budget's tax cuts. In 1999, Harkin and the Appropriations Committee helped initiate funding for UNHS that would assist states in developing newborn screening diagnosis and screening/intervention programs. "This has been a major public health success," says Harkin. "Prior to this initiative, only 1 in 5 babies received screening for hearing loss. Today, 9 of 10 babies are screened for hearing loss…"
"But now there's a problem. The President's proposed budget for 2006 completely eliminates funding for the UNHS program. Now, this is a classic case of being penny-wise and pound-foolish. It's terrible public policy. The President and his allies in Congress defend killing this program by saying they're making tough choices and being fiscally responsible. But, I'm sorry, to my ears this rings hollow. Because, despite record deficits, they're pushing full steam ahead with two new tax cuts that will take place next year [that will cost] $146 billion over 10 years. And who gets these tax cuts? More than half of the benefits will go to people making over $1 million a year, and 97% of the benefits will go to those making over $200,000 a year…At the same time, they're proposing to cut or eliminate funding for newborn hearing screening, the preventative healthcare block grants, Medicaid, and other programs that help the American people."
Insiders' politics. Mary Matalin and James Carville—America's best-known politically diverse couple—entertained the General Assembly with their own unique brands of conservative and liberal hard-ball politics. Matalin spent a good deal of her speech deriding her husband and his positions, but said that they wouldn't fight so hard if they didn't "love each other so much." Borrowing from a well-known hearing care phrase, she said that it's not so much that she doesn't listen to Carville, it's just that she "literally can't understand him." She contends that America, in its last election, has shed the old liberalism launched by Franklin Roosevelt, and that these policies have given way to a "new era of organizing principles" that encompass all races and genders, and has a foreign policy that functions not just as an "engine of security but as an engine of progress." She also said that, although she doesn't often agree with Harkin, she does "agree on early screening and funding for [UNHS] and direct access…and Jim and I want to echo [the Senator's speech] that, while you're in town, use your time to lobby…It is a 'squeaky hinge' town, and you have an issue that both sides of the aisle are responsive to. You're really blessed to be in a profession that does transform lives."
Carville, while taking many jabs at conservatives, emphasized the need for professional involvement in politics. "Don't fall for that Sirens' song that there's nothing you can do," he says. In particular, Carville contends that there is a strong need to show passion in presenting the story of hearing healthcare to members of Congress and their office staff: "Every healthcare dollar has 20 hands on it, and everyone has an interest," says Carville, adding that checks made out to PACs can make a big difference, too. "There is nothing that makes a bigger sound in Washington than a check hitting a bank account," he says.
Awards and Elections
A special Academy Awards Banquet was held to honor five outstanding audiologists. Lucille Beck, PhD, was presented with the AAA Career Award in Hearing. Beck has made many lasting contributions to the field as a key administrator in the Department of Veterans Affairs, as a researcher, as a special-sections editor in Ear and Hearing, as well as an educator at numerous industry events and as a member of the faculty at George Washington University and Gallaudet University.
Rochelle Cherry, EdD, of Brooklyn College was honored with the Clinical Educator Award. Cherry is described as the quintessential educator who has dedicated her professional life to teaching, educating, and has a unique ability to relate to students.
The Jerger Career Award for Research in Audiology was presented to Robyn Cox, PhD, of the University of Memphis. As one of the hearing industry's most respected researchers, Cox has published over 70 articles and is the co-developer of the Abbreviated Profile of Hearing Benefit (APHAB) which has become a mainstay of subjective benefit testing in many dispensing practices.
Gilbert Herer, PhD, was honored with the AAA Humanitarian Award for his work in the Healthy Athlete Program and his efforts to include audiology in that screening program. Audiologists now join optometrists, podiatrists, dentists, physical therapists, and other health professionals in actively screening Special Olympics athletes. Since 2000, over 10,000 athletes in 23 states and 22 countries have been screened under the direction of Herer.
The Professional Achievement Award was presented to Dianne Meyer, PhD, of Rush University. Meyer developed the first AuD program in the state of Illinois. Although there were no templates or other models to follow at that time, Meyer drew together a number of excellent advisors and developed a curriculum that has been recognized as one of the premiere programs in the US.
During the Academy's General Session, Amy M. Donahue, PhD, chief of the Hearing and Balance Vestibular Sciences Branch at the National Institute on Deafness and Other Communication Disorders (NIDCD), a division of NIH, Rockville, MD, was presented with the AAA President's Award by Gans for her steadfast work in programming, planning, coordinating, and conducting research. Also receiving the President's Award was Teri A Hamill, PhD, Albuquerque, NM, an associate professor at Nova Southeastern University, who played a key role in chairing the Academy's Ethical Practices Board.
The Academy announced that Paul Pessis, AuD, has been elected as the next president-elect. Pessis is a private practice audiologist and owner of North Shore Audio-Vestibular Lab, with offices in Highland Park and Long Grove, Ill (Chicago area). Debra Abel, a private practice audiologist from Sedona, Ariz, Carmen Brewer, chief of audiology at the NIDCD, and Therese C. Walden, the chief of audiology at Walter Reed Army Medical Center, were elected to 3-year terms to the AAA Board of Directors. Additionally, Karen A. Jacobs, MA, owner of AVA Hearing Center in Grand Rapids, Mich, was elected to serve on the Board for the final two years of Pessis' term.
2006 AAA Convention
AAA 2006 Program Chair Patrick Feeney provided a preview of next year's 18th annual convention which takes place in Minneapolis on April 5-8. For more information, visit the AAA Web site at www.audiology.org.