ADA Unveils Professional Symbol For Audiology
Asheville, NC—One of the highlights of the Academy of Dispensing Audiologists (ADA) Convention was the unveiling of what the Audiology Foundation of America (AFA) calls the "professional symbol of audiology." The design entails a representation of the cochlea at the core of the symbol surrounded by the facets of audiology: patient care, research, and education.
The symbol is the result of a contest sponsored by the AFA and was selected by a committee composed of representatives of several audiology organizations. Randy and Marian Fredner, Suzanne Katko, and Anita Pikus submitted the winning concepts for the design. The symbol can be used by professionals on letterhead and business cards once permission is obtained from AFA (it is copyrighted), and it can be downloaded from the organization's Web site (www.AuDfound.org).
---
U of Pittsburgh to Offer AuD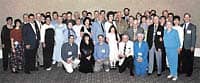 The University of Pittsburgh announced that it will start its first class for AuD students in Fall 2002. Current faculty at the University include (top, l to r): Barbara Vento, PhD; Diane Sabo, PhD; Catherine Palmer, PhD; (bottom, l to r) John Durrant, PhD; Sheila Pratt, PhD; and Elaine Mormer, MA. Faculty members not shown include Reva Rossman, PhD, and Kimberly Uccellini, MA. For more information on the new 4-year program, visit the program's Web site at www.shrs.pitt.edu or call 412-383-6540.
---

Hearing Aid Foundation Donates Grant To NOHR
Narberth, Pa—The Hearing Aid Foundation recently provided a grant to the National Organization for Hearing Research (NOHR), a private charity that supports research into the causes, prevention, treatments, and cures for hearing loss and deafness. Founded by Geraldine Dietz Fox in 1988, NOHR funds all proposals judged by its scientific review committee to be worthy of its support and uses no part of the donations for operational expenses. The seed money program is NOHR's primary focus for making funds available for scientists to pursue new ideas and directions. For more information on NOHR, visit its Web site at www.nohrfoundation.org or call (610) 664-3135.
---
Widex Opens Clinical Research Office
Long Island City, NY — Widex Hearing Aid Co recently opened its new USA Clinical Research Office in Lisle, Ill, a suburb about 30 miles west of Chicago. The new facility is an addition to the Widex Research and Development Division headquarters in Copenhagen, Denmark. While the R&D team in Denmark is primarily responsible for studies pertaining to product development, the United States office is charged with conducting clinical research in hearing instrument fitting and product efficacy. It also acts as the liaison for research groups interested in collaborating with the company on its various research projects.

Widex ApS representatives (from l-r)Søren Westermann and Jan Tøpholm, and Widex USA representatives Eric Spar and Ron Meltsner.
"To stay competitive in this digital age, a hearing aid manufacturer must be innovative and yet be accountable," says Jan Tøpholm, co-owner of the company and director of R&D at Widex ApS in Denmark. "The new research office is a reflection of Widex's commitment to such a cause."
"Selecting the United States to be its clinical research site shows Widex's high regard for the US market," added Widex USA President Ron Meltsner.
---
Harris Communications Celebrates 20th Anniversary
Eden Prairie, Minn—In October 2001, Harris Communications celebrated 20 years in business as a nationwide retailer of products for deaf and hard-of-hearing consumers. As part of its celebration, Harris has changed its logo to reflect its continuing mission of offering a wide selection of products at reasonable prices, reports the company. The new logo is featured on Harris Communications' 2002 Catalog, which offers 180 pages of ALDs, books, videos, and other hearing-related items. For more information, visit the company's Web site at: www.harriscomm.com.
---
Send news, calendar, personnel, and other announcements to:
Ben Van Houten, associate editor
Hearing Review
6701 Center Drive West, Suite 450
Los Angeles, CA 90045
Tel: 310-642-4400 ext 269
Email: [email protected]