CONFERENCES
4th International Pediatric Conference Held by Phonak
AHAA Convention to be Held in February
AAS Annual Conference Set for March 6-8
NHCA Prepares for February Gathering in Portland
AWARDS
Oticon Epoq Wins 2007 Danish Product Award
---
CONFERENCES
In December, the "Fourth International Phonak Pediatric Conference: A Sound Foundation Through Early Amplification" brought audiologists from all over the world to learn about the latest developments in pediatric amplification. Presenters offered perspectives on pediatric services and how the effects of these services may need adjustments as more is learned about this young population.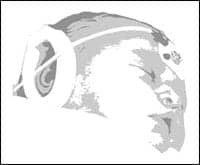 Richard Seewald, PhD, of the University of Western Ontario and John Bamford, PhD, of the University of Manchester (UK), co-chairs of the conference, established an enthusiastic energy for more than 540 attendees and 24 speakers. Mary Pat Moeller of the Boys Town National Research Hospital presented the keynote address, offering ideas about achieving communication and discussing how children with hearing loss need to receive specific intervention strategies. Anu Sharma of the University of Colorado spoke about the use of evoked potentials to measure auditory processing in the brain and the possible predicted sensitive periods for cochlear implantation. Karen Gordon of the University of Toronto provided information about the development of the nervous system and how sensitive periods for auditory processing may fall at different times throughout the brainstem and cortex.
Attendees had an opportunity to ask questions of researchers during the research poster presentation. Fifty studies were represented, with topics ranging from sign language to masking to genetics. Several longitudinal studies, including those of Teresa Ching of the National Acoustic Laboratories (NAL) in Sydney, Australia, and Adrian Davis of the University of Manchester (UK), brought to light hot topics in pediatric research.
Other less controversial topics included "Assessment and Management of Auditory Processing Disorders" presented by Prudence Allen of the University of Western Ontario and Sharon Cameron of the NAL. "Current Issues and Developments in Amplification" were covered by Catherine Palmer, PhD, of the University of Pittsburgh, Kevin Munro, PhD, of the University of Manchester (UK), Stefan Launer, PhD, of Phonak AG (Switzerland), Susan Scollie, PhD, of the University of Western Ontario, Todd Ricketts, PhD, of Vanderbilt University, and Patricia Stelmachowicz, PhD, of Boys Town National Research Hospital.
The conference ended with a look to the future as Anne Marie Tharpe, PhD, of Vanderbilt University, Dawna Lewis, PhD, of Boys Town National Research Hospital, and Carolyne Edwards, MCISc, MBA, of Gestalt Institute of Toronto discussed children's transitions into adolescence. Judith Gravel, PhD, of the University of Pennsylvania School of Medicine brought the conference full circle as she discussed the need for future visions and goals for research into pediatric hearing loss.
—Submitted by Beth Ann Jacques, AuD student
at the University of Massachusetts-Amherst
---
American Hearing Aid Associates (AHAA) will conduct its 12th Annual Convention February 20-23, in Orlando, Fla, at Disney World's Contemporary Resort. AHAA estimates more than 450 hearing health care professionals—associates in the AHAA network—and others are expected to attend the event.
The daily programs are divided into five tracks and structured to appeal to CEO/owners, practice managers, audiologist/dispensers, front office personnel, and practice development representatives who work in a variety of sizes and types of practices.
The program, according to AHAA, is designed to show attendees how to increase practice revenue and profits, customer satisfaction, and employee productivity. "Our Associates tell us year after year that the convention is their main source of learning, networking, relationship building, and idea exchanging," Tina Soika, president of AHAA, says. "Each year's program is based on AHAA's continual research of our members' needs and interests. This one will feature the latest business insights, trends, and practices that can be implemented as soon as the attendee returns home."
The convention will offer more than 35 ASHA, AAA, and IHS-approved sessions designed to cover all aspects of running a practice, including CEO effectiveness, growth strategies, goal setting, selling against price, front office productivity, customer service, and sales planning and marketing.
AHAA also reports many major manufacturers will be exhibiting and presenting workshops designed to bring attendees up to date on the latest changes and trends in technology and products.
More information about the convention is available by contacting Gayle Silvestri at (800) 984-3272.
---
The American Auditory Society (AAS) will hold its Annual Meeting on March 6-8, 2008, in Scottsdale, Ariz. AAS is a multidisciplinary organization composed of individuals whose professional work is dedicated to the ear, hearing, and balance.
This year's meeting will feature Jos Eggermont, PhD, of the University of Calgary presenting the annual Carhart Memorial Lecture; Translational Research Presentations led by Bechara Kachar, MD, NIDCD/NIH; Chris Shera, PhD, Harvard-MIT; Peter Dallos, PhD, Northwestern University; and Robert Dobie, MD, University of California-Davis. A special session on tinnitus will be offered by James Kaltenbach, PhD, Wayne State University; Mary Meikle, PhD, Oregon Health Science University; and Rich Tyler, PhD, University of Iowa. The AAS Life Achievement Award will be presented to Dr Dallos.
As in past years, the AAS conference will offer Podium Presentations, 52+ submitted papers, Technology Update Sessions (a selection of 16 sessions that are each 30 minutes long), NIH Sponsored Research Poster Sessions (20 funded posters), General Posters, a Junior Investigator Presentation by Sumit Dhar, PhD, Northwestern University, and an NIH Funding Process Presentation. For information, visit www.amauditorysoc.org.
---
The National Hearing Conservation Association (NHCA) is holding its 33rd Annual Meeting February 21-23, in Portland, Ore, at the Marriott Downtown Waterfront Hotel. The mission of the NHCA is to prevent hearing loss due to noise and other environmental factors in all sectors of society.
The program is reportedly packed with excellent speakers and thought-provoking research. Ioan Allen, senior vice president of Dolby Laboratories, will give the Luncheon Presentation titled "Audio in the Movie Theatre—Spectacular, Impactful, or Just Too Loud?" Sharon Kujawa, PhD, director of audiology at the Massachusetts Eye and Ear Infirmary and associate professor of otology and laryngology at Harvard Medical School, will give this year's keynote presentation, "Noise Exposure: Acute Insults and Delayed Neurodegenerative Outcomes."
More information is available online at www.hearingconservation.org/conf_info2008.html.
---
AWARDS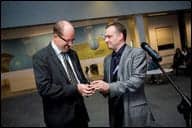 Jes Olsen, director of development for Oticon A/S, accepts the Danish Product Award 2007 from Rolf Ask Clausen, editor-in-chief of Ingeniøren, the Danish news-magazine that sponsors the annual award honoring outstanding product development and innovation by Danish companies.
Ingeniøren, a Danish newsmagazine that reports in the fields of science and technology, has awarded the Danish Product Award 2007 to Oticon Epoq for what it calls "world-class Danish engineering, design and craftsmanship." An independent panel of judges selected Epoq from among innovations submitted by 36 competing Danish companies. "Using wireless communication, Oticon has succeeded in developing a truly revolutionary device that makes the company a leader in the industry," noted the judging panel.
"It is with great pride that we accept this prize," said Niels Jacobsen, president and CEO of both Oticon A/S and parent company William Demant Holding. "Oticon Epoq is a unique new development with the potential to significantly improve the quality of life of people with hearing loss. Wireless broadband communication between the two hearing devices represents a technological quantum leap that greatly enhances sound quality."
Oticon reports that Epoq's wireless connectivity is designed to enable people with hearing loss, for the first time, to connect to the world of electronically transmitted sounds from Bluetooth-enabled cell phones and other popular electronic devices such as MP3 players and computers. With the addition of Epoq's Streamer companion device, Epoq becomes the equivalent of a hands-free intelligent headset without having to attach devices or wires to the hearing instrument.