Sonic Innovations Parent Company Renamed Otix Global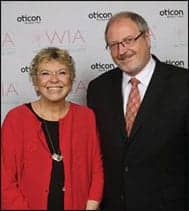 Award-winning journalist and keynote speaker Linda Ellerbee, and Peer Lauritsen, president of Oticon Inc, at conference.
Shareholders of Sonic Innovations Inc, Salt Lake City, overwhelmingly approved the renaming of Sonic Innovations Inc to Otix Global Inc at the company's recent annual shareholder meeting. The name and ticker symbol change have already been adopted.
"The move is designed to create a holding company that will allow the Sonic Innovations brand and Sonic's other brands to operate independently from each other," says Sam Westover, the company's chairman and CEO. He says Sonic Innovations will continue as a company and brand developing and distributing hearing instruments and services, and Otix will serve as the parent company for Sonic and its other legal entities.
Westover says Sonic customers will not see any change in the products or services they currently receive. "The Sonic brand will continue as it currently exists," he notes. "If you deal with Sonic Innovations now, you will continue to deal with Sonic Innovations in the future. Nothing will change."
Women in Audiology Human Link Conference Builds Bridges
Award-winning journalist Linda Ellerbee, the keynote speaker for the second Women in Audiology conference, sponsored by Oticon Inc, Somerset, NJ, invited the 200 participating women hearing care professionals to "accept change, survive it, and even embrace it," Oticon reports. Ellerbee's views on succeeding in a changing professional and personal landscape set the tone for the national conference held in Indian Wells, Calif, which explored topics such as leadership, personal and professional growth, financial planning, and staff, client, and office management.
"Women in hearing health care represent an estimated 70% of the profession," says Peer Lauritsen, president of Oticon Inc. "This conference provides an opportunity for them to connect, learn, and support one another as they work toward creating meaningful change in their professional and personal lives."
Presentations included financial planner Marcia Bloernendaal's Creating an Action Plan: What Every Woman Should Know, focusing on the factors that make the financial world of women unique; Sharon Sandridge, PhD, director, audiology clinical services at Cleveland Clinic, explored the aging process from the perspective of practitioners and patients, and offered guidelines for aging well; and Gail Whitelaw, PhD, clinic director at Ohio State University, discussed leadership theories that apply to women, and outlined skill sets to grow leadership abilities.
Starkey Audiology Series Presents Trio of Industry Leaders
Paul Pessis, AuD, Alan Freint, MD, and Gyl Kasewurm, AuD, will present Maximizing Practice Profitability during a 2-day accredited course scheduled on August 14 to 15 at Starkey Laboratories Inc, Eden Prairie, Minn—as part of the Starkey Audiology Series. Pessis and Freint will discuss how to maximize a practice's revenue through coding and reimbursement, contracting with third-party payors, providing appropriate documentation and electronic medical record keeping, and understanding legislation specific to professional relations. Kasewurm will share her expertise in growing current patient revenue. For more information or to register, call (800) 328-8602 or visit: www.regonline.com/maximizingprofitability0813.
Unitron Donates uHear Proceeds to Australian Children's Charity
The proceeds from uHear's 99-cent downloads during May's Better Hearing and Speech Month will be donated by Unitron—in the form of hearing instruments—to the Carabez Alliance, an Australian-based charity that works with audiologists who donate their time to test children with mild and moderate hearing losses in Fiji and the surrounding Pacific islands, says Unitron, Kitchener, Ontario.
Following the May introduction of uHear—a self-administered, hearing-screening test accessible on iPhone and iPod touch—Unitron says the application is now available in English worldwide for free. uHear helps users identify potential hearing loss through three assessments: hearing sensitivity, speech in noise, and a questionnaire about common listening situations.